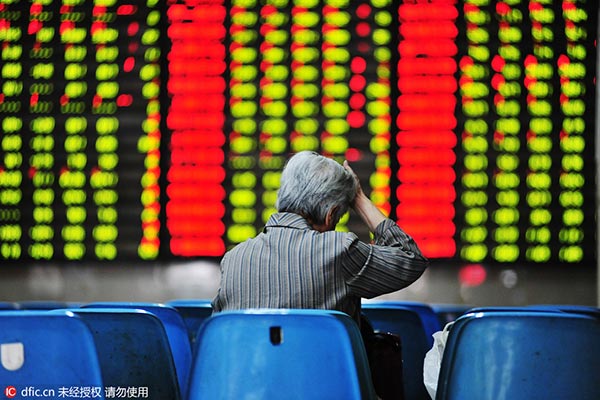 An Investor looks at an electronic board showing stock information at a brokerage house in Nanjing, Jiangsu province.[Photo/IC]
US index provider MSCI Inc is due to announce early on Wednesday whether it will include China's A shares in its Emerging Markets Index. Inclusion would bring funds of $20 billion to $30 billion into the A-share markets.
Analysts, authorities and market players hold different views over the likelihood of the inclusion this year as the market has made significant improvements in many aspects while restrictions on inbound investment remain.
MSCI reviewed the A-share market last June and decided not to include A shares for a number of reasons, including market transparency and accessibility.
The MSCI Emerging Markets Index is one of the world's most widely recognized measurements for stock performance in emerging markets. The index tracks the performance of more than 800 stocks in 23 economies, more than 70 percent of which are in Asia.
Qi Bin, an official with the China Securities Regulatory Commission, said improvements to the trading-halt system were part of Chinese government's efforts to facilitate MSCI inclusion.
Qi, who made the remarks while attending the Lujiazui Forum in Shanghai on Sunday, also cited freer money transfers allowed by the foreign exchange regulator and greater recognition of beneficiary ownership.
"The inclusion in MSCI is a historic certainty - it will happen eventually," Qi said.
"When you participate in a market, you don't want to wait too long. It will be too late to enter a market if you wait for it to become completely mature," he said.
CSRC Vice-Chairman Jiang Yang, speaking at the same event, kept investors guessing about the introduction of a planned link between the Hong Kong and Shenzhen stock markets, which would be similar to the Shanghai-Hong Kong Stock Connect, which started in 2014.
Jiang said the link, which Premier Li Keqiang said in March would be launched this year, would begin at an "appropriate time".
Qi added that a feasibility study into a third link, between the Shanghai and London exchanges, is now underway.
The inclusion of some A shares in an MSCI index will help make a link between the Shanghai and London stock exchanges more possible, London Stock Exchange Chief Executive Officer Xavier Rolet said on Sunday at the same forum.
The A-share benchmark Shanghai Composite Index fell 3.21 percent to 2,883.67 points on Monday, while Shenzhen Component Index declined 4.4 percent to 9,862.88 points.
Bloomberg contributed to this story.