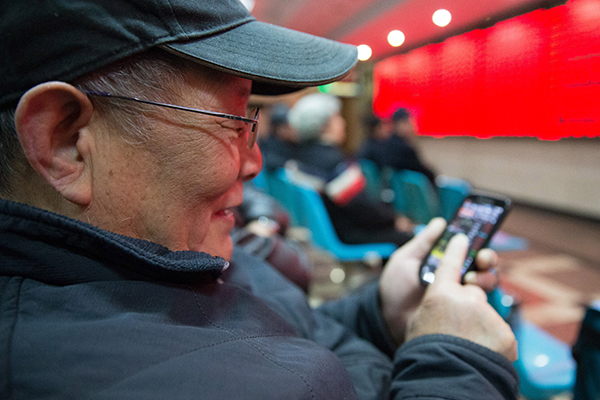 An investor browses stock information with his smartphone at a brokerage in Nanjing, Jiangsu province. [Photo provided to China Daily]
Analyst says any inclusion in the emerging markets gauge could bring 900 billion yuan into Chinese financial securities.
The rising interest of foreign investors will likely cheer the A-share market amid the expectation that it will likely be included in the MSCI global indexes, analysts said.
The market is down by 20 percent this year.
Undervalued blue chips, particularly financial stocks, are likely to attract the most overseas capital allocation as they fit into the investment preference of foreign institutional investors, said Tu Jun, an analyst at Shanghai Securities Co Ltd.
"Based on our estimation, financial stocks will make up 40 percent of the A shares even with their initial 5 percent weighting in the MSCI indexes, which will translate into roughly 60 billion yuan ($9.1 billion) into the financial stocks," he said.
The complete inclusion of the A shares in the MSCI indexes will bring a total of 900 billion yuan into financial stocks, Tu said.
"It will be positive for the valuations of financial stocks and the overall A-share market," he said.
Wendy Liu, chief China strategist at Nomura Securities, said that overseas investors are moving up the learning curve and are increasingly examining the Chinese market ahead of the index provider MSCI's decision on the inclusion of the A shares in its benchmark index for emerging markets on June 14.
"During our recent US marketing trip, we noticed greater interest in the China equities, foreign exchange market and economic outlook from global risk management perspective, as events in China are becoming more important in setting prices of global financial assets," Liu said.
Domestic and overseas brokers and banks have raised the odds of the A shares' inclusion in the MSCI index. Goldman Sachs increased the probability to 70 percent while the UBS had said the odds were 50 percent. Analysts at Huatai Securities Co said the likelihood has exceeded 80 percent.
The Chinese securities regulator has further refined the trading suspension rules last week, which was seen as an effort to clear a major obstacle for the A shares' inclusion in the MSCI index.
MSCI decided against the A shares' inclusion last June citing several issues, including investment caps, capital mobility restrictions, limited market access and lack of transparency.
The Chinese regulators recently removed the caps on foreign investments under the Qualified Foreign Institutional Investors program, which is the foreign investors' main channel of access to the A-share market. The move was interpreted by the market as a response to MSCI's concerns.
The regulators also simplified the procedure for foreign investors to repatriate capital out of China and further clarified foreign ownership rights.
Analysts said they are expecting an announcement soon of the upcoming launch of the Shenzhen-Hong Kong stock connect mechanism. The connect, they said, could also improve the overall accessibility of the A shares for foreign institutional investors.