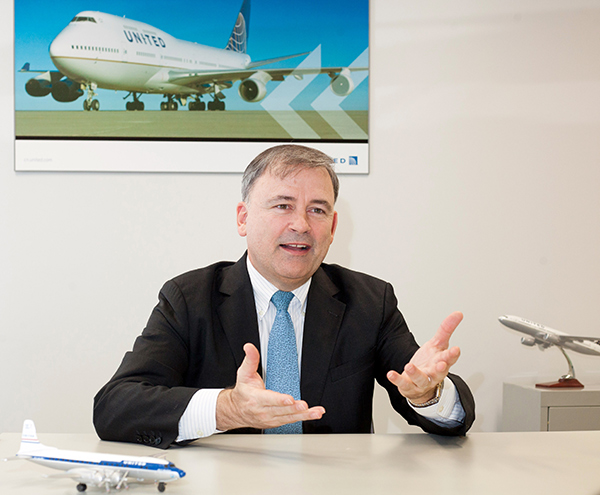 Walter Dias, managing director of Greater China and South Korea for United Airlines
Walter Dias pilots United Airlines to new trans-Pacific flights to smaller Chinese cities
Walter Dias, managing director of Greater China and South Korea for United Airlines, the largest United States carrier in China by traffic, said working in "a fascinating place" like China has been a privilege, given the fast growth.
The Chicago-headquartered United has been in the China market for 30 years. The airline will soon increase its non-stop flights between second-tiered Chinese cities and the US.
It started seasonal non-stop flights from Xi'an to San Francisco on May 10 and will run the service through Oct 29, in addition to its non-stop flight from Hangzhou to San Francisco, which will start from July 15.
"When I wake up every morning, I'd think, 'Wow, it's great to be able to involve in the China market'. I've been working in China for the past 12 years, and I have the privilege to meet great people every day in my job," he said.
Dias, a United veteran, has risen through the ranks over the past 30 years of his airline career. He helped set up United's Hong Kong office, where he is currently based. For the past two decades, he has been responsible for the Asia market.
A native American, Dias began his career at an oil company and then moved to accounting firm PricewaterhouseCoopers. In 1987, he joined the finance department of Continental for a consulting job. Since then, he has held various leadership positions in the aviation industry in Japan, South Korea, Guam, the Philippines, Australia and Southeast Asia.
During the interview in Beijing, the amiable executive looks buffed in his dark suit and blue tie, oozing class and elegance that seem to put his natural fun-loving streak on a not-so-tight leash.
"Working in the aviation industry is fun. I've always enjoyed geography, traveling and meeting people. This job has been a natural attraction to me."
In 2001, he was instrumental in launching the airline's first trans-Pacific flight from China, the non-stop flight between Hong Kong and New York. It was also the world's longest commercial flight, and the first flight that flew over a polar route.
For its new trans-Pacific services, United will use the Boeing 787-9 Dreamliners, the most advanced aircraft. "We are building a new bridge between China and the US. United will be the first US airline to serve these two second-tiered Chinese cities (Xi'an and Hangzhou)," Dias said.
"Customers would prefer non-stop services. We watch the market city by city to see how their economies are performing, their demographics, and if their major population is growing into a middle-class population.
"The first thing middle-class population wants to do with their disposable income is travel. If we see sustainable demand for travel to the US in a Chinese city, we launch a new service there."
As the Chinese economy switches gears to slower, sustainable growth driven by domestic consumption, the services sector is opening up more opportunities for global companies.
"We are very confident about the China market. The relationship between the US and China has deepened. Now we see bigger increase in tourists from China to the US side, which demonstrates a lot of economic value China is bringing."
Dias said the number of passengers from Beijing and Shanghai is growing strongly. This has created a challenge, however, as it necessitates corresponding growth in airport space and air traffic control space, which is difficult to add.
In March, United sponsored 10 free return tickets between a Chinese city and a US city for the top 10 winners of the national English speech competition for college and middle school students held by China Daily.
"It's very exciting for us to be able to support such competitions. It's a demonstration that people have done a lot of hard work and preparations. We hope they enjoy the travel to the US, get to learn more and have better experiences because of it."
Last year, about 2.56 million Chinese mainland visitors traveled to the US. United is bullish about the huge demand for air travel between the two countries. It expects a 10 percent annual growth in the number of Chinese tourists traveling to the US.
In 2015, United improved its operational performance and achieved record financial performance globally. The airline netted $4.5 billion in income, and its employees earned a record $698 million in profit sharing last year.
Dias said in order for a company to be successful, a key thing is that the leader has to be able to find capable and knowledgeable teammates who are willing to grow, then let them do their jobs.
He has been willing to learn different new things, and investing time in researching the details of many work-related projects. This has enabled him to be quite familiar with the aviation market and helped him earn job promotions.
"For the airline industry, it takes many people to do the job. The operating system is like a fine watch that has thousands of moving parts operating together inside, to tell you the simple time.
"Everyone in an organization is very important. When we listen to customers, we need to make sure to get the information to the right part of the team to be able to address the issue."
A frequent traveler, Dias has visited many cities in China, including smaller cities, and enjoyed different cuisines. If he ever takes a weekend off from his busy schedule, Dias spends time running, playing golf and traveling.
He enjoys a "green life style" with his wife in Hong Kong. "I don't own a car. I take subway or bus, or walk to work."
CLOSE-UP
Walter Dias, managing director of Greater China and South Korea for United Airlines
Family:
He and his wife reside in Hong Kong.
Hobbies:
Running, playing golf, travelling
Education:
He received a bachelor's degree in accounting fromthe Pennsylvania State University in 1982.
Career:
Dias began his airline career in 1987 with Continental. He went on to hold various leadership positions in the United States and the Asia-Pacific region, covering finance, marketing and sales before being appointed as managing director of Greater China and South Korea for United Airlines in 2011.