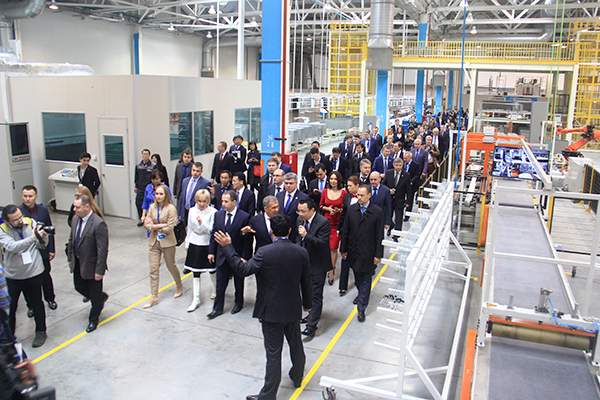 Local officials and businesspeople visit Haier's new refrigerator plant in Kamsky Industrial Park, Russia. [Photo provided to China Daily]
The appliance maker invests in R&D, manufacturing plants and assembly units in a bold bid to localize its operations
Haier Group, China's biggest maker of household appliances, has opened a new refrigerator factory in Russia in response to increasing demand from the European market. The new plant is the first joint Sino-Russian business project in a non-energy field.
The new site, spanning 24,500 square meters, is located in Kamsky Industrial Park, Naberezhnye Chelny, an important industrial city in the Russian province of Tatarstan.
It will entail up to $55 million in investment, of which $39 million have been invested already to set up the plant. The rest will be invested this month to buy components and towards production.
The factory is a crucial step for Haier to localize its Russia operations. Haier has also started establishing an R&D center and a TV assembly unit in Russia.
Annual output of the Tatarstan plant will reach 500,000 refrigerators in 2020. Production capacity in the first stage will be 250,000 units, which will swell to 500,000 units by the end of the second and final stage. The target markets include Russia, the Commonwealth of Independent States, and some parts of Europe.
By 2017, Haier plans to employ 500 professionals at this factory, and another 1,200 jobs will be created by outsourcing business. At present, there are already 248 staff in Naberezhnye Chelny.
Liang Haishan, the rotating president of Haier Group, said, "Innovation and cutting-edge technologies are the genes of Haier's global strategy. Tatarstan is one of the most prospective Russian regions in terms of economic development, technologies, and innovations."
He said Tatarstan has a supportive investment environment, highly qualified administrators, fully developed industrial clusters, and good prospects for logistics development. The future development of the plant augurs well for the company, he said.
Rustam Minnihanov, president of the Tatarstan Republic, said, "We are very proud that we managed to create all the necessary conditions in the region to attract such hi-tech companies as Haier."
Minnihanov said Haier's factory signals a good beginning towards mutual benefits. As Chinese investors come into the region, Russian enterprises, encouraged by the Russian government, are expanding in China.
Founded in 1984, the Qingdao-headquartered Haier Group is one of the world's leading home appliances manufacturer. It had a 9.8 percent share in global market in 2015, London-based market-research firm Euromonitor International data showed.
In January, the company agreed to buy General Electric's home appliances business for $5.4 billion in cash.
"Haier's strategy is to localize its production in Russia as fast as possible. Over the next two to three years, up to 70 percent of production in Russia is planned to be localized," said Mikhail Babich, Russian presidential plenipotentiary in the Volga Federal District.
In addition to financial investment, Haier is introducing a unique production model and innovative technology to Russia.
It implements special flaw-minimizing technologies at all production stages from manufacturing to assembly and packaging. It has built two laboratories in Naberezhye Chelny, one to check the quality of the products and the other to develop innovative technologies.