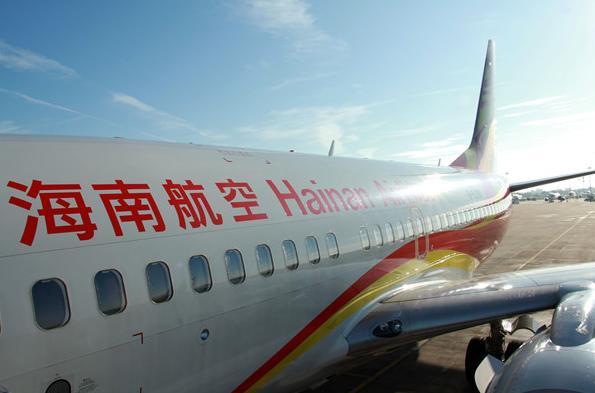 An airplane with HNA Group waits to take off in Haikou, Hainan on Sept, 19, 2015.[Photo/VCG]
China's HNA Group Co Ltd has agreed to buy Swiss airline catering firm Gategroup Holding AG for $1.5 billion in cash, as the aviation and shipping conglomerate steps up its global expansion.
The deal adds to a string of overseas acquisitions for privately owned HNA, which include plans announced in February to buy US-listed electronics distributor Ingram Micro Inc for $6 billion and the $2.5 billion purchase of Irish aircraft lessor Avolon Holdings Ltd last year.
HNA, which operates more than a dozen airlines including its flagship carrier Hainan Airlines Co, is offering 1.4 billion Swiss francs ($1.5 billion) or 53 Swiss francs per share for all of Gategroup's outstanding shares, a 17 percent premium to the catering firm's last trading price.
Gategroup's board has recommended the offer, the companies said in a joint statement.
HNA plans to delist Gategroup from the Swiss stock exchange. Gategroup will remain headquartered in Switzerland under the leadership of the current management team.
Spurred on by slowing economic growth at home, Chinese companies have been highly acquisitive this year, with announced deal values topping $87.5 billion so far, compared with a record $103 billion launched last year.
This year nearly half of all China outbound M&As have gone into Switzerland, thanks to State-owned China National Chemical Corp's record $43 billion bid for seeds and pesticides maker Syngenta AG.
Gategroup has hired Credit Suisse as financial adviser and Homburger AG as legal adviser. UBS AG is acting as financial adviser to HNA and while Bar & Karrer AG is acting as legal adviser.
HNA's operations span aviation, infrastructure, real estate, financial services, tourism and logistics.
Hedge fund RBR Capital Advisors called HNA Group's agreed 53 Swiss franc per share cash offer for Swiss airline caterer Gategroup significantly underpriced.
"HNA's offer is far too low. We said a year ago that the fair value for Gategroup shares is 100 francs," RBR head Rudolf Bohli said on Monday.
RBR and partner activist investor Cologny Advisors have 11.3 percent of Gategroup, whose shares rose more than 17 percent in early trade to 51.70 francs after HNA unveiled the $1.5 billion offer that requires 67 percent acceptance.