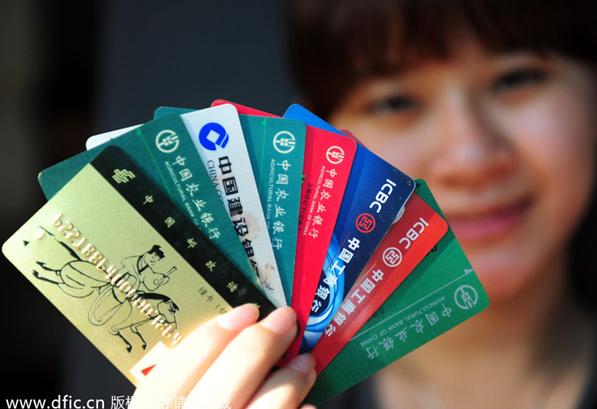 A Chinese woman shows credit cards and other bank cards in Qionghai city, South China's Hainan province, April 14 2012. [Photo/IC]
BEIJING - China's consumer confidence rebounded in March as bankcard users spend more on hotels, entertainment, transportation, medical services and education, an index showed on Monday.
The Bankcard Consumer Confidence Index (BCCI), compiled by Xinhua News Agency and China UnionPay, a national bank card association, edged up 0.49 from February to 81.08 last month, reversing a 1.67 month on month drop registered in February.
A higher index reading shows an increase in consumers' desire to spend.
A report released along with the index attributed the rebound to rising consumption of daily necessities. Consumption on hotels, gasoline and rail tickets in March rose by 28.8 percent, 28.7 percent and 51.6 percent from February, respectively.
The consumption of home appliances increased 24.6 percent month on month in March buoyed by a gradually warming real estate market.
The report forecast that consumer confidence would rise steadily encouraged by positive readings from the purchasing managers' index (PMI) in March and a slew of government policies to secure economic growth.
Official data showed that China's PMI for the manufacturing sector rose by 1.2 month-on-month to 50.2 in March.
China has decided last month to expand its value-added tax (VAT) pilot program to all industries in order to deepen the country's fiscal and taxation reform.
Also in March, the central bank and the banking regulator issued guidelines outlining measures that could spur consumption in promising fields such as health care.
The BCCI, first released in April 2009, is based on bank card transaction data and analyses of changes in urban consumption.