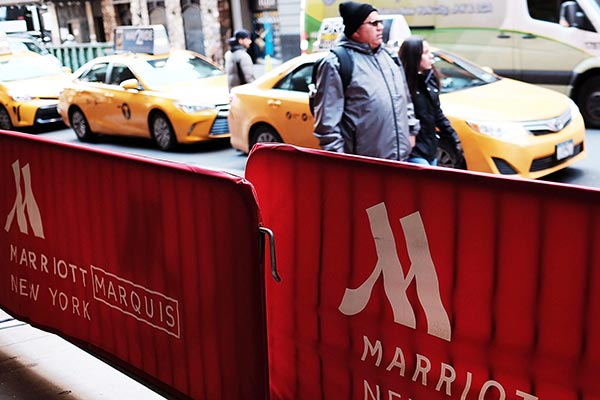 People walk by a Marriott hotel in midtown Manhattan in New York City. GETTY IMAGES
Chinese insurance conglomerate Anbang Insurance Group's withdrawal from the $14 billion bid to purchase US hotel chain operator Starwood Hotels and Resorts Worldwide Inc could highlight international wariness regarding the lack of transparency over the insurer's funding sources as well as the absence of a clear "game plan" regarding the acquisition, analysts said on Monday.
On March 31, Anbang abruptly withdrew its Starwood offer after raising its offering price three times, citing "various market considerations" as the reason for terminating the deal.
Anbang's sudden withdrawal caught Starwood and many industry experts by surprise, prompting speculation over the reasons and the insurer's motivation for ending the offer, which would have become the largest acquisition by a Chinese firm in the United States if successful.
"One major concern on the transparency is its sources of funding," said Michael Chin, executive chairman of WT Global Hospitality Investment Co in Hong Kong.
"Plus, Anbang seems to lack an overall game plan, which is unlike Marriott International Inc, which has a thorough plan and will incorporate its corporate management teams to gain a maximum economy of scale after such an acquisition," Chin said.
Earlier media reports also suggest that Anbang's exit may have to do with its failure to secure massive financing for the deal as well as pressure from the regulatory authorities.
Chinese business magazine Caixin reported earlier that the China Insurance Regulatory Commission was not in favor of the deal. The insurance regulator did not respond to China Daily's inquiry on the regulatory issue.
The current regulation stipulates that the outstanding value of overseas assets owned by a Chinese insurer cannot exceed 15 percent of its total assets of the previous year.
James Woo, director and head of valuations and professional services of international property service provider Savills (Beijing), said that concerns over the massive outflow of capital to weigh on the yuan's exchange rate could be one of the causes for the termination of Anbang's offer.
"The problem could lie in the financing structure of deal which involved enormous amounts of capital flowing out of China, which could pressure the yuan's exchange rate," he said.
Nonetheless, the case of Anbang underscored the fact that Chinese companies still lack professional experience that fit international practices in cross-border deals as well as their failure to convince sellers with a clear and transparent plan, analysts said.