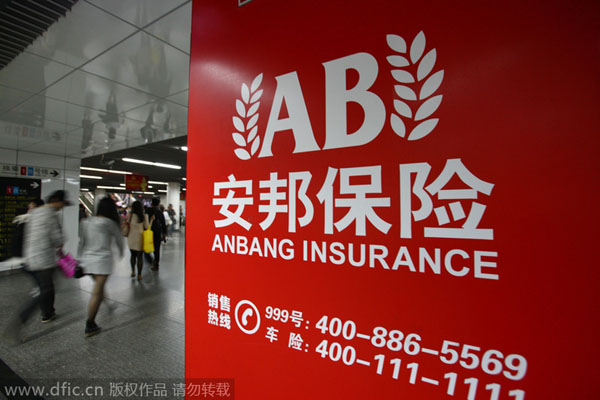 Passengers walk past an advertisement for Anbang Insurance Group at a subway station in Shanghai, Oct 18, 2012. [Photo/IC]
Insurance group buys into nation's major lenders tempted by cheap valuations and safe returns
Chinese insurance conglomerate Anbang Insurance Group has boosted its holdings of banking stocks, making it among the top 10 shareholders of the country's "big four" lenders.
The cash-rich insurance group, known for a slew of high-profile acquisitions including its purchase of New York's famed Waldorf Astoria hotel in 2014, increased its stake in Industrial and Commercial Bank of China, Bank of China, Agricultural Bank of China and China Construction Bank in the fourth quarter of last year, Chinese business magazine Caixin reported on Tuesday, citing the annual reports of the four banks.
Anbang has become the fifth-largest shareholder of Bank of the China, holding 0.23 percent of the bank's shares. The insurer has also become the sixth-largest shareholder of ICBC while taking eighth place in ABC and ninth in CCB.
While Anbang's move has prompted questions over its expanding presence in the banking sector, a main sales channel of insurance products, analysts said the recent increased shareholdings in major banks could just be a financial investment.
"Bank stocks with cheap valuations and stable and safe returns have always been preferred by insurance funds," said Zhao Shasha, an insurance analyst at Huarong Securities Co.
"Unlike strategic investments aiming for a controlling stake, Anbang's stakes in the 'big four' banks are all below 1 percent, meaning that it is unlikely to have a major influence on the boards of directors of the banks," Zhao said.
Analysts said that banking stocks are likely to get a boost after the top leadership in Beijing has been considering using debt-for-equity swaps to reduce banks' rising bad loans amid the slowing economy, making them attractive investment targets of insurance funds and State-owned funds.
While Anbang has increased its shareholdings of domestic banks through the public market, it has attracted attention for its recent $14 billion bid for Starwood Hotels & Resorts Worldwide Inc.
Although the insurer withdrew after raising its offering price three times, analysts said that Anbang will continue to look for other targets in international markets.
According to Simon Yarmak, an analyst from financial service company Stifel, the sudden retreat from the Starwood deal will not make a big difference to the insurer's active outbound mapping, but rather indicates that Anbang will look for some other targets in the hospitality sector.