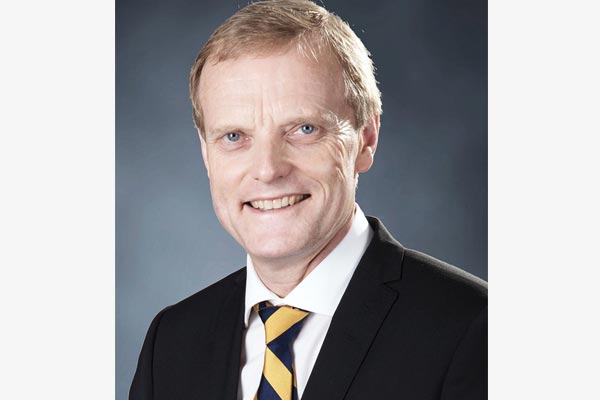 Kjeld Stark, president of Danfoss China.[Provided to China Daily]

Demand for firm's transportation technology is growing rapidly
Danfoss, the largest industrial group in Denmark, plans to double its sales in China over the next six years despite the country's economic slowdown, a top executive said.
Sales in the world's second-largest economy rose to 4 billion yuan ($617.6 million) in 2015, up 2 percent year-on-year, but the company aims to have a growth rate of 10 percent and double its current sales volume by 2021, according to Kjeld Stark, president of Danfoss China.
"The target is ambitious, but I think we can achieve that, as it fits to the country's agenda to improve energy efficiency and a low-carbon development," he said on Friday.
China's economy grew at its slowest pace in more than two decades last year, with a target set at 6.5 percent to 7 percent in 2016.
Though some foreign companies have either withdrawn their brand or put a pause on investment plans amid a weak economy, Stark said the Nordic company will continue its expansion of factories, production lines and innovation in the country.
"China is our second 'home market' only after Denmark and we have 4,000 employees here with just 4 people from Denmark, so it is very clear that we will make a bigger commitment to the country," he said.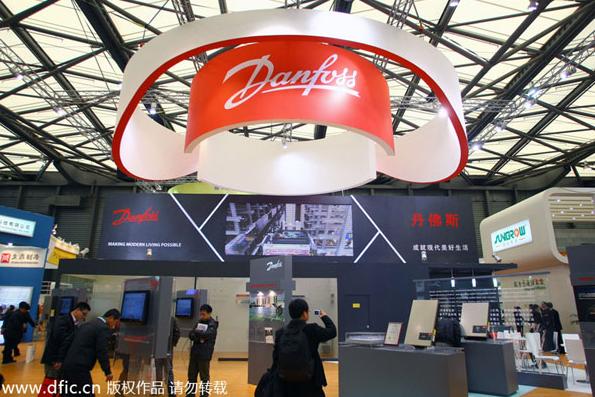 People visit Danfoss booth at the International Photovoltaic Equipment Expo, Feb 23, 2012, Shanghai.[Photo/IC]
Danfoss, which provides products and solutions used in refrigeration, air conditioning, district energy, green buildings and motors efficiency, is in a transition period as it tries to become more focused on areas gaining increasing priorities in China's national policies as well as in the marketplace.
"The move is in line with the country's strategy to boost the economic growth in the inland regions but at the same time reduce the carbon emissions," Stark said.
China produces about 1 billion metric tons of perishable food each year, most of which needs to be preserved or transported in a cooling condition. This provides a huge business potential of growth for the company, he said.
Yu Xueshun, deputy secretary-general of the China Refrigeration and Air-Conditioning Industry Association, predicted that the growth rate of the cold-chain industry for fresh food is likely to increase 18 percent for the next five years.
"The demand for cold-chain transportation and preservation is growing rapidly, which means that cooling system will be on fast track for growth," he said, adding that 20 to 30 percent of vegetables and fruits are ruined every year due to inappropriate storage.
Danfoss has built three plants in the cities of Tianjin, Haiyan of Zhejiang province and Anshan of Liaoning province and the company's Chinese research and development centers employ more than 400 people.