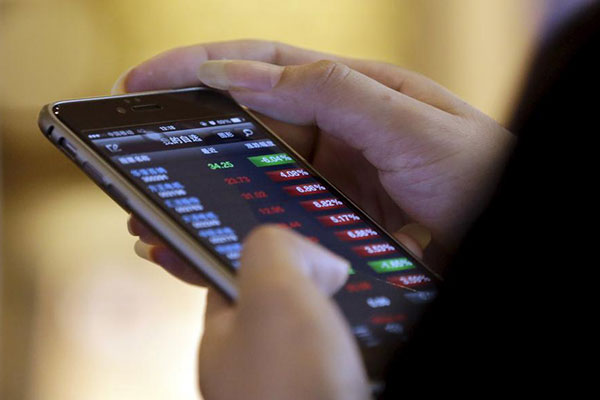 A man checks share prices on his mobile phone while waiting for his coffee at a Starbucks branch in Beijing July 16, 2015.[Photo/Agencies]
Net capital inflows into the Shanghai stock market reached nine consecutive days last week as offshore investors rode the Shanghai-Hong Kong stock connect channel to buy stocks of companies whose businesses outperformed their share prices.
According to Shanghai Stock Exchange data, capital poured into shares of automakers, resource firms and consumption-driven companies.
Analysts believe net capital inflows into the Shanghai market may be a sign that investors are more confident about the recovery of sectors that suffered due to economic restructuring and slowing growth.
Last week's buying lifted share prices and held out a positive outlook for their performance in the near future.
Net capital inflows into the Shanghai market through the connect mechanism this month have reached 2.5 billion yuan ($381.5 million). Shares of pharmaceutical, healthcare and consumer goods companies were among the best performing ones, according to data of the Securities Journal.
Shares of about 10 consumer electronics makers, rare-earth miners and processors rose more than 2 percent in a single trading day as investors in Hong Kong sought to increase their holdings of Shanghai-listed shares.
Shares in television maker Sichuan Changhong surged the maximum 10 percent on Tuesday, while those in rare-earth provider Ningbo Yunsheng rose 5 percent. However, a research note from Huatai Securities cautioned retail investors against herd mentality as some smaller-cap shares are expected to fluctuate wildly in coming days.
According to Shanghai Stock Exchange data, on average, more than 80 percent of the daily quota for the stock connect between Shanghai and Hong Kong was left unused in the past two weeks. Trading volume shrank in the Shanghai market with only 121 billion yuan recorded on Wednesday, the lowest since Jan 7.
Average Shanghai-bound trading volume through the connect mechanism plunged 35 percent quarter-on-quarter to 3.4 billion yuan per trading day in the January-March quarter, according to Hong Kong stock exchange data.
Researchers said they hold a positive outlook for the A-share market for the second half of this year. For, trading may become more active as investors see opportunities in the shares of companies with stable income and growth.
"On the one hand, the A-share market has slumped more than what the actual economic growth has suffered. On the other, many shares have been undervalued, and they are likely to be re-valued. So, in the next half (of the year), they could rebound to reasonable levels that match the companies' actual business income and profitability," said Qiao Shan, an analyst with Shanghai-based He Zhu Wealth Management Ltd.
Li Bin, chief strategist with Guosen Securities, said a good short-to-medium strategy would be to seek opportunities from those benefiting from the ongoing economic transformation, and macro policy support measures.