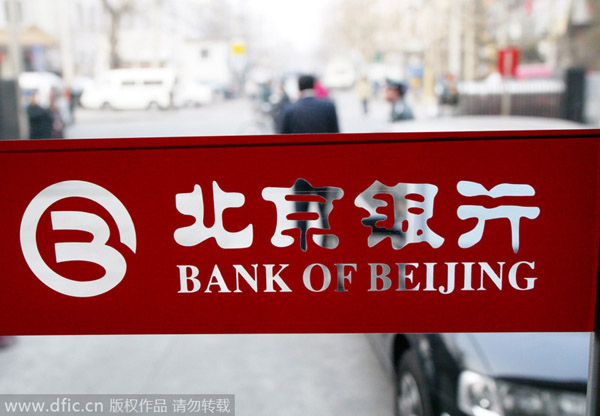 The logo of Bank of Beijng. [Photo/IC]
Bank of Beijing Co Ltd is preparing to launch an investment subsidiary to invest in technology companies with potential for high growth, as well as lending to startups.
The move follows the Bank of Beijing's selection by the China Banking Regulatory Commission as one of the first batch of 10 banks to participate in a pilot program to establish an "investment and loan linkage mechanism" for qualified technology startups.
"A team headed by our Chairman Yan Bingzhu was formed to carry forward the pilot program," said Xu Ningyue, vice-president of Bank of Beijing.
"We have submitted our plan to the CBRC Beijing office and we are awaiting regulatory approval. During the process, we've strengthened coordination with relevant departments of the Beijing municipal government," he said.
In April, the CBRC, the Ministry of Science and Technology and the People's Bank of China jointly issued guidelines to encourage banking institutions to join the pilot program for the qualified technology startups.
It is a major breakthrough compared with the existing rules, which prevent commercial banks from investing in non-bank financial institutions and companies.
Previously, if a commercial bank wanted to invest in a company, it had to do so through a non-bank financial institution.
The Bank of Beijing, for example, invested 7.6 million yuan ($1.2 million) through an asset management company in a Beijing-based network technology firm, which mainly serves radio, television and telecommunication operators. That helped the tech firm raise the funds to establish a data center.
"The investment and loan linkage mechanism will give strong support to innovation of the Law on Commercial Banks," said Bank of Beijing's Xu Ningyue.
He added that more innovation in the financial markets should be done to help tech firms, which had grown tremendously in the past 20 years.
Xiao Ying, deputy director-general of the CBRC Beijing office, said regulators were doing systematic research to further clarify the functions of the new investment subsidiaries to be set up by the banks and their financial arms specializing in serving technology companies.