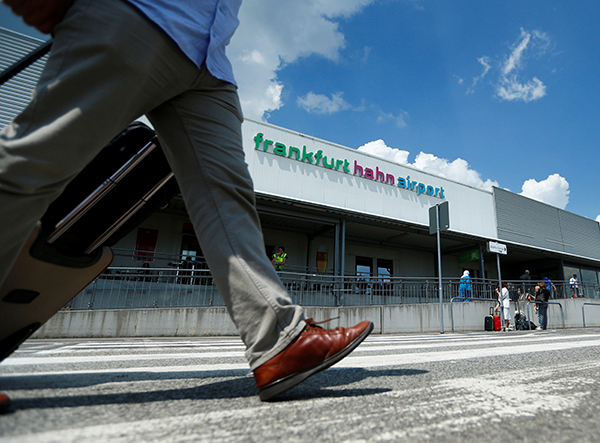 A passenger walks past the terminal of Frankfurt Hahn airport 100 kilometers west of Frankfurt, Germany, June 6, 2016. [Photo/Agencies]
Shanghai Yiqian Trading Co is set to buy a major stake in Germany's Hahn airport, located more than 120 kilometers from Frankfurt, in a move that underscores the growing interest by Chinese companies in overseas infrastructure acquisitions.
Shanghai Yiqian plans to buy a 82.5 percent stake in Hahn airport from the current owner, the German state of Rhineland-Palatinate, for an undisclosed amount, Reuters reported.
The state will provide around 70 million euros ($79 million) in subsidies for the airport for the next 10 years, according to the interior ministry. But the subsidies still await approval from the European Commission.
The new owners will be expected to cover at least 50 percent of the investment costs, according to the interior ministry.
Transformed from a former military base, Hahn airport ranks fifth in terms of freight volume in Germany. But it has struggled in recent years with falling business and lost as much as 16 million euros last year. According to its official website, only 2.66 million passengers used it in 2015 compared with more than 4 million in 2007.
Irish budget airline Ryanair used to be Hahn airport's major user, but has been cutting back on services from Hahn and diverted business to other airports.
Hahn is the most distant airport from Frankfurt, with passengers needing to take a 100-minute shuttle bus ride to the city center. As a result, it has proved less convenient for transport connections, another major reason for its dwindling popularity.
Hahn airport, however, does have the merit of a 24-hour flight permit, giving it a competitive edge on airports with more restricted flying hours, handy for freight flights in particular.
Yu Tao Chou, chairman of Shanghai Yiqian, told Reuters that increased air freight links from Germany would help supply China with Western products such as meat, at a time when local producers were struggling to keep pace with growing demand.
Before Shanghai Yiqian's offer, Henan Civil Aviation Development & Investment Co Ltd, as well as e-commerce giant Amazon.com Inc, were reported to be interested in buying the stake in Hahn.
Zhou Yangji, an air industry consultant based in Zhengzhou, Henan province, said the airport's losses were the biggest challenge the new owner will have to address.
He said the Chinese investors should be prepared to use modern aviation industry management tactics, utilize local operational experience and develop detailed plans to link the German airport and the Chinese domestic network.
German airport acquisitions are nothing new to Chinese investors. China PR Group Co Ltd acquired Luebeck airport in 2014, which unfortunately went bankrupt one year later. LinkGlobal International Logistics Group bought Baltic airport in 2007.