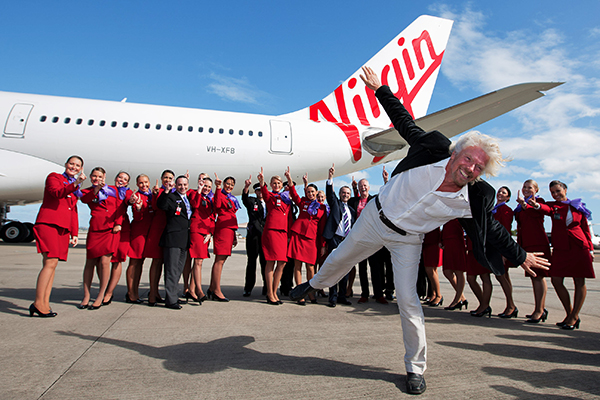 Richard Branson, founder of Virgin Group Ltd, poses at the unveiling of the new face of the Virgin Blue Group, Virgin Australia's predecessor, in Sydney in this file photo. HNA Group is buying a 13-percent stake in Virgin Australia Holdings Ltd. [Photo/Agencies]
Plans to lift interest further, as Air New Zealand signals to sell its major holding
HNA Group, the Chinese conglomerate behind the country's largest private commercial airline, is buying a 13-percent stake in Virgin Australia Holdings Ltd for A$159 million ($114 million), the company's latest in a series of overseas acquisitions.
The purchase is costing 30 Australian cents per share. Virgin Australia said in a statement HNA has the intention of raising that stake to 20 percent over time.
Air New Zealand Ltd, Virgin Australia's biggest individual shareholder, has already said it could sell its 26-percent holding in the carrier.
John Borghetti, Virgin Australia Group's CEO, said the HNA agreement will allow it to operate direct flights to China, currently Australia's fastest-growing and most-valuable inbound travel market.
The two sides have also agreed to launch more cooperation on code-sharing, frequent flier programs and ground service resources, including lounge access.
"We are pleased to welcome HNA as a new shareholder and strategic alliance partner," said Borghetti.
"The alliance will see us leverage the opportunities offered by China, as well as the synergies of HNA's comprehensive aviation supply chain."
Inbound passengers to Australia from China have increased by around 18 percent per year since 2010. Last year, more than 1 million Chinese tourists visited, a 21.6 percent rise on 2014.
Virgin Australia is expecting 1.5 million Chinese travelers to be heading down under annually by 2020, a market worth A$13 billion by then.
HNA said in a statement it would support the growth of Virgin Australia by "injecting funds" and forming alliances with the airline, within its own overall plans to expand its global business and routes network.
Founded in 2000, Brisbane-based Virgin Australia is the country's second-largest airline, with a 36 percent share of the local market.
But analysts said the link with HNA is unlikely to have any immediate impact on the Sino-Australian air market.
"It is not easy to add more routes to first-tier cities given the tight air rights resources," said Li Xiaojin, a professor at the Civil Aviation University of China in Tianjin.
Eight airlines currently fly nonstop between the countries, including Qantas, JetStar Airways, Air China and China Southern Airlines.
On Monday, Air France-KLM said it was entering exclusive negotiations with HNA to sell it a 49.99-percent stake of its catering business, Servair.
HNA's major M&As in 2016
Feb 17: acquired US-listed California-based computer, networking and software distributor IngramMicro Inc for $6 billion.
April 11: agreed to fully buy Swiss airline catering firm Gategroup Holding AG for $1.5 billion in cash.
April 15: agreed to buy British currency exchange firm International Currency Exchange.
April 19: bought a commercial building in London's Canary Wharf for $189 million.
April 28: agreed to buy Minnesota-based Carlson Hotel Group, one of the largest in the world and the owner of the Radisson and Country Inns & Suites chains.
May 31: agreed to buy 13 percent stake in Virgin Australia Holdings Ltd.
Ongoing M&As by HNA
May 6: in exclusive talks with CWT Ltd, a listed Singaporean logistics firm, to buy a controlling stake worth around $1 billion.
May 27: plans to buy an initial stake in Atlantic Gateway, a private consortium that owns 50 percent of TAP Portugal.
May 31: in talks with Air France-KLM Group to buy a 49.99-percent stake of Servair, a subsidiary of Air France-KLM that provides catering and cleaning services to airlines.