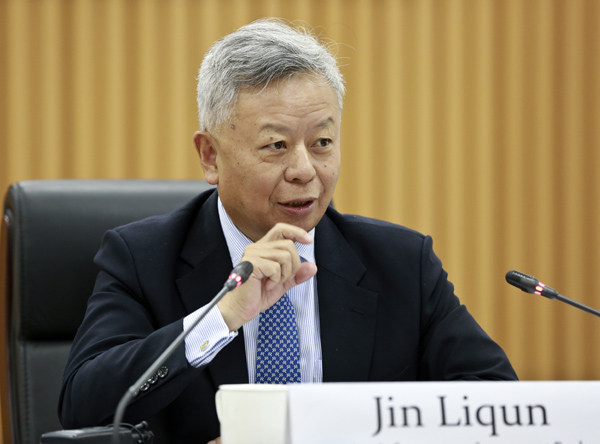 Jin Liqun, president of the Asian Infrastructure Investment Bank, speaks at the annual board meeting of the Asia News Network held at China Daily in Beijing, May 31, 2016. [Feng Yongbin / chinadaily.com.cn]
The President of the fledgling Asian Infrastructure Investment Bank Jin Liqun has used a famous quote from British author Jane Austen to hit back at skepticism about China's motivation for creating a multilateral financial institution.
"Skepticism must always be forgiven you know, because there is no hope of a cure," Jin said,replacing "selfishness" in the original quote, with "skepticism".
The AIIB chief shrugged off suspicion and misconception about the AIIB, saying the bank intended to use its performance to earn international trust and credibility.
"You cannot talk people into believing no matter how nice the words you have, just forget about it (convincing people), do your job," he said.
The bank chief was speaking in Beijing with a group of senior editors from major Asian media outlets, at the annual Asia News Network meeting.
Jin said China had no intention to challenge the existing international financial order, and that the creation of the AIIB was not a threat to other multilateral development banks.
He said The AIIB was already working seamlessly with other major players, including the World Bank and the Asian Development Bank, to co-finance infrastructure projects globally.
While the United States and Japan have declined to join the AIIB, Jin said countries could work together, regardless of bank membership.
"The door has been open and will remain open," Jin said, adding that Japanese companies and the US would be treated equally and with fairness while operating the AIIB.
"We do not reject ideas from anybody, which will be good for AIIB and members," he said.
When asked about whether the AIIB would invest in new technology, Jin said the bank had no interest in replacing the role of venture capital.
"It is not fair to spend the shareholders' money on something dubious. We will apply the new technology but we will not invest in it," Jin said.
But the bank chief said the AIIB would, in the future, expand its investment in physical infrastructure projects to sectors such as education, health care and urban planning and management.