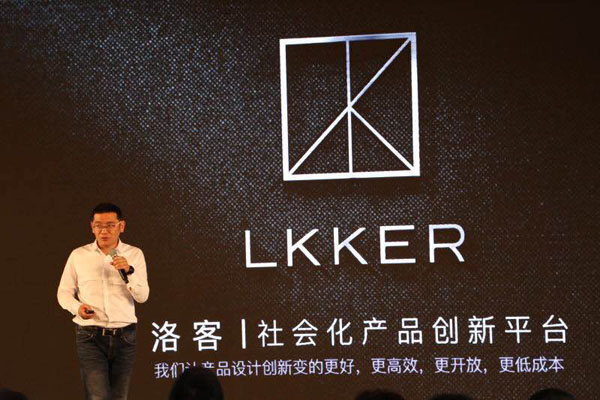 Jia Wei, founder of LKKER, speaking at the LKKER Conference in Ningbo, Zhejiang, on May 30, 2016. [Photo provided to chinadaily.com.cn]
"Creating the impossible" through the digital age has been the idea trumpeted during a global innovate design conference in Zhejiang.
The two-day LKKER Conference, held in Ningbo from Monday, gathered creative minds in design, finance, IT and investment from across the globe. They discussed the value of business in the internet era.
During a series of speeches, LKKER's founder Jia Wei–also the founder of LKK, a Beijing-headquartered creative design company–shared his concept on "imagination economy".
"LKKER aims to serve as a creative platform for socialized products where users can participate in crowd innovation and designers (can) work with the company of their families," Jia said.
Jia believes the Conference model can make product innovation more effective, and at a lower cost. He says the future weighs heavily on people's interests, driven by imagination economy.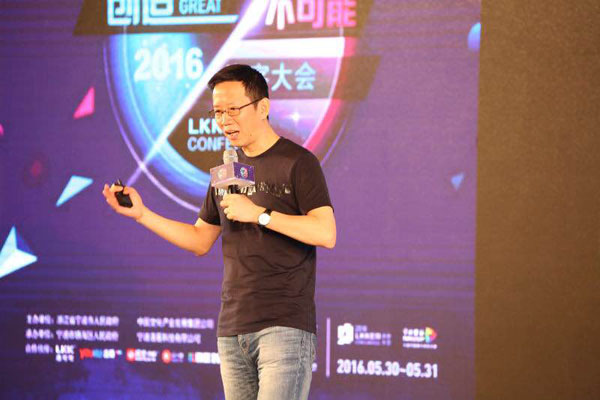 Economist Wu Xiaobo speaking at the LKKER Conference in Ningbo, Zhejiang, on May 30, 2016. [Photo provided to chinadaily.com.cn]
Economist Wu Xiaobo told the Conference the world of the future would likely be a perceptual, but also rational, platform.
He says the Internet will become an infrastructure in our lives that is cheap and fast.
"LKKER conference aims to maximize the possibility of the platform's ability," he said.
Li Wanqiang, co-founder of Chinese smartphone-maker Xiaomi Corp and also behind the establishment of LKKER, says LKKER's mode is the inevitable path to sharing innovation as the world moves towards a sharing economy.
"Other innovative firms will surface if it weren't LKKER," he said.
"We hope to create more impossible on this designer platform, just like how on-demand mobility (ODM) service Didi Chuxing changed the transportation industry."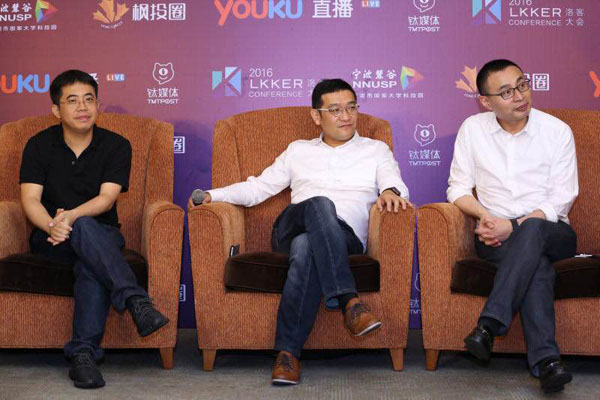 Li Wanqiang, co-founder of Xiaomi Corp (left), Jia Wei, founder of LKKER (middle), and Wu Sheng, founder of Context Lab, answer questions at the LKKER Conference in Ningbo, Zhejiang, on May 30, 2016. [Photo provided to chinadaily.com.cn]

'New Species' plan
Another plan discussed at the conference - "new species" - links together every new thought, product category and business model through people's needs.
Co-founder Wu Sheng says it can generate new business value.
According to Wu, 'new species' does not have to be tangible. It can be new smart products, a new value chain, even a new service experience – anything that can lead an industry trend can be defined as 'new species'.
In the time when all things are connected, the plan aims to realize business value, help enterprises with their business model reforms and help designers create super products based on users' need. It defines a new lifestyle and puts imagination in products.
The plan was experimented before its launch. LKKER and Context Lab created popular products such as Changba, a mobile karaoke app which attracted 300 million users.
The plan called upon experts in industries such as IT, creative investment, data analysis and e-commerce to recruit partners in technology, resources and internet traffic. After careful selection, examination and design, the plan will be made a reality through imagination.
The plan attracted more than 1600 companies since its launch on May 10.
Wu says the plan will not only generate multiple business models, but also maximize the imagination space of the 'new species' future through ecological business construction.