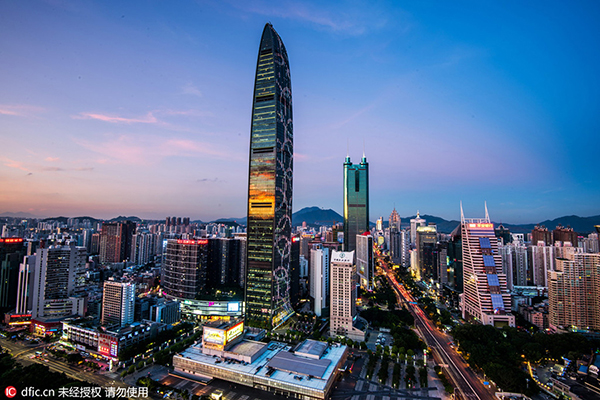 A view of Shenzhen's landmark skyscraper Kingkey 100, June 16, 2015. [Photo/IC]
Big cities in China remain hugely magnetic to big companies, but analysts worry they may gradually lose luster as "urban diseases" surface, the National Business Daily reported on Tuesday.
Shenzhen in southern Guangdong province again tops urban competitiveness list this year, followed by Hong Kong, Shanghai, Guangzhou, and Chinese Taipei, the newspaper said citing a report by National Academy of Economic Strategy under the Chinese Academy of Social Sciences.
Statistics show the city's GDP grew 8.9 percent last year to hit 1.75 trillion yuan ($265.9 billion). Meanwhile, its budget revenues surged 31 percent to stand at 272.7 billion yuan, and fixed-assets investment growth reached a 17-year high of 21 percent year-on-year.
Xu Qin, mayor of Shenzhen, said earlier that the city has been beefing up innovation-driven development strategy to boost local economic growth and will continue to increase research and development investment which now take up 4 percent of GDP.
The coastal city, however, is also one of the most plagued by social issues such as traffic congestion, pollution, healthcare access and cost, rising housing price, and security problems, according to the report.
Such issues, dubbed as "urban diseases", usually pop up due to imbalance between swelling population and scarce urban resources, a phenomenon that is baffling big cities such as Shenzhen, Beijing, Shanghai and Guangzhou, said Ni Pengfei, assistant president of the Academy.
Ni said urban networks are taking shape which will integrate adjoining cities, connect different markets, reshape economic geography, and limit such "diseases".