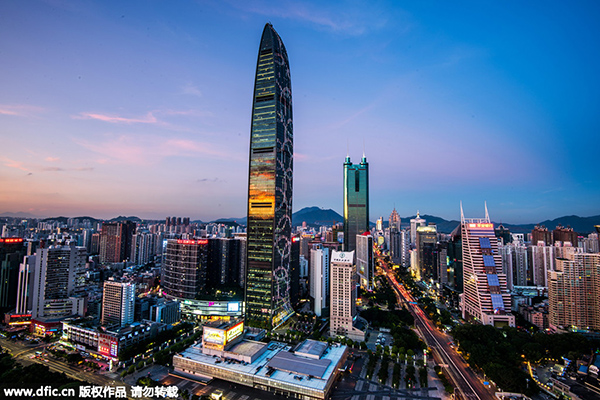 A view of Shenzhen's landmark skyscraper Kingkey 100, June 16, 2015. [Photo/IC]
Shenzhen released an outline of its 13th Five-Year Plan on Tuesday, setting a GDP target of 2.6 trillion yuan ($402.1 billion) by 2020 which may entail an annual growth of 8.2 percent in the next five years, the 21th Century Business Herald said.
The city's GDP stood at 1.75 trillion yuan in 2015, up 8.9 percent from a year earlier, ranking fourth nationwide after Shanghai, Beijing, and Guangzhou, according to the National Bureau of Statistics.
China registered an economic growth of 6.9 percent last year, the lowest in the past 25 years. The country has set a growth target of 6.5 percent or above in the next five years.
In the new five-year plan, Shenzhen, the first city to set up a special economic zone in the country, aims to further develop itself into an international innovation-oriented economic hub, housing more than 10,000 high-tech enterprises by 2020 - a figure that will be twice the number of companies established in 2015.
Strategic emerging sectors, including genetic technology, new energy vehicles, advanced materials, as well as environmental protection, are estimated to reach a size of 3 trillion yuan in the next five years.
Meanwhile, the scale of future industries - satellite manufacturing and application, avionic devices, robots, wearables and new health technology - is projected to increase 150 percent to hit 1 trillion yuan by then.
For the past few years, Shenzhen has been in the leading position in developing innovation-driven economy in China. According to the city's statistics bureau, the added value of the strategic emerging industries in Shenzhen reached 700.3 billion yuan, contributing 40 percent to the city's GDP in 2015.
Zhu Lingqing contributed to this story.