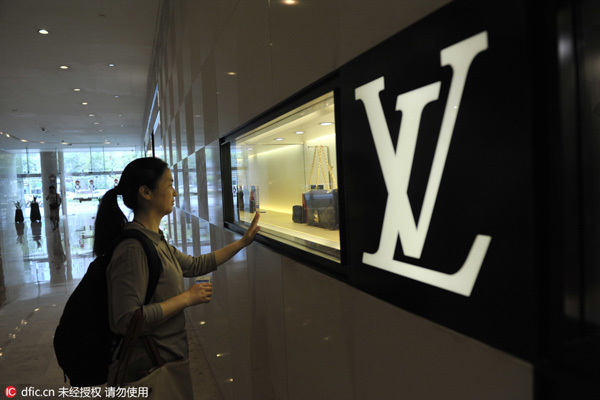 A Chinese woman looks at luxury goods showcased at a fashion boutique of Louis Vuitton in Nanjing city, East China's Jiangsu province, June 6, 2015.[Photo/IC]
China's luxury market slid some 2 percent to 113 billion yuan ($17.38 billion) in 2015, according to Securities Daily, citing the latest report from consulting firm Bain & Co.
The downward trend is mainly triggered by a sales drop in watches, men's clothes and luggage, the report said.
China's ongoing anti-corruption campaigns, the economic slowdown and a slump in the stock market in the second and third quarters made an impact on the luxury market, it added.
The consulting firm projected that the market size for overseas purchases fell to 34-50 billion yuan ($5.23-7.69 billion) in 2015, compared with 55-75 billion yuan ($8.46-11.54 billion) in 2014.
The decline came as a result of the adjustment of global price differentials by major brands, which trimmed overseas purchase agents' profits and drew some customers back to the domestic market, it said.
Fashion brand Chanel led the wave of price leveling by raising prices in Europe and cutting them in Asia. Other brands, such as Cartier, followed suit to cut prices on the Chinese market.
Meanwhile, the Chinese government tightened control on overseas purchases in a bid to channel consumption on luxury brands back home and increase the GDP figures.
Since September 2015, customs has strengthened checks on travellers and parcels coming from hit shopping destinations. It has also encouraged cross-border e-commerce sites to phase out overseas purchases.
On April 8, China adopted a new tax policy on cross-border e-commerce platforms, which is expected to bring about changes to the luxury market.
Earlier, luxury brand Prada Group reported a 26.6 percent plunge in net profits for the 2015 financial year ending in January 31, over sluggish Greater China market.
British fashion brand Burberry Group Plc posted a 4 percent quarter-to-quarter decline in Q3 retail sales, and Italian fashion icon Giorgio Armani SpA reported 3.7 percent revenue growth for 2015, a sharp decline from the 16 percent growth rate in 2014.