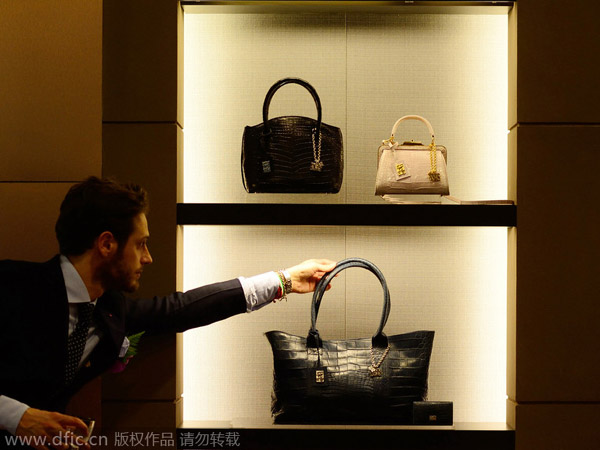 A employee puts a handbag on the display shelf in a store in Hangzhou, Zhejiang in May 18, 2013. [Photo/IC]
There's no question that China – once regarded by luxury goods manufacturers as the 'golden goose' of retail, has lost some of its luster. Much has been said about the reasons – from China's slowing economy to President Xi Jinping's crackdown on corruption and the rapid knock-on effect which has seriously curtailed the practice of lavish gift-giving for favors. However, the question remains: where does this leave the key players? Does it mark the end of a highly profitable winning streak for luxury companies, or can things be turned around?
Shopping abroad
The good news for manufacturers in the luxury retail sector is that Chinese consumers have not given up on luxury spending. Brand appeal is still strong and while they may not be buying at home, they are still buying – albeit abroad. The pattern that is emerging in China's growing upper middle class is that they are travelling more, and further, and when they do so, shopping is high on their agenda. JingDaily, a digital publication that focuses on luxury consumer trends in China, recently reported that in 2015, 78 percent of luxury purchases by Chinese consumers took place outside Chinese mainland.
This trend reflects our own findings reported in our recently conducted Chinese Travellers survey. Put simply, the number of Chinese consumers purchasing premium products when they travel outside Chinese mainland is rising. Shopping is actually one of the key motivators behind their travel arrangements – second only to sightseeing – and is meticulously planned before the journey ever starts. Seventy-five percent of these traveler/shoppers do their research and plan their shopping in advance, getting advice and recommendations from friends and families, visiting specific brand websites and checking sites like Taobao and Tmall.
The typical affluent Chinese traveler makes about two outbound trips a year. Each trip lasts around a week, during which time he or she visits three locations on average and spends a total of $3,300. Half of the purchases they make on these trips are for personal use – the main categories being fashion items, food, jewelry and cosmetics. The top places to shop are department stores/shopping malls and airport retail outlets; downtown duty free also captures 14 percent share of wallet. When choosing a shopping channel, range and price are their top criteria and the most important reasons when making a purchase are product authenticity and price.
More, more, more
If one word could sum up the buying trends associated with today's Chinese luxury consumers, it would be 'more'. These buyers are not only more mature and more informed, they have more brands to choose from. They are also more interested in buying items that are personal signifiers – things they feel suit their own taste and style – now that they are not buying the ultimate logo as a gift for others. They are certainly more concerned about price, and will search the internet to find the best deals, and they are looking for a more exciting all round experience, not just buying a product.
This last point ties in with their continued travel aspirations which are more and more geared to luxury and leisure. Another recent consumer survey found that 53 percent of Chinese mainland intended to spend more on luxury travel this year.
Being savvy is the key
You might say that as long as Chinese consumers are still buying luxury goods, it shouldn't really matter to the manufacturer if they are shopping in China, Tokyo or Paris, and sales through e-commerce platforms or even Daigou are sales.
But of course this doesn't take into account the fact that tier one luxury brands have already invested heavily in bricks-and-mortar on the mainland, Hong Kong and Macau. As the downturn hit, some closed their smaller stores while others consolidated their overall offering to concentrate on the most profitable lines, but this should not be seen as a major retrenchment.
Shoppers can be brought back into the stores, but they need to be coaxed and coddled a lot more than they have been in the past. The 'build it and they will come' approach is no longer enough for this increasingly savvy consumer group. In the old days, just having the logo above the door was enough to make the tills work overtime. Not any more – manufacturers need to be more savvy too.
What does future has in store?
As the dust settles, particularly from the fallout from the anti-corruption drive, the market in China should recover. The wealthy middle class is still growing and consumers are clearly still interested in luxury goods. But to get back to significant, profitable performance, companies are going to have to change in three specific areas –stores, service and systems.
From the store perspective, this will be all about creativity. They should be selling dreams not products. This will require a new focus on local store activation – not just the launch of a new line, but interesting, imaginative experiential events that speak to the aspirational status of high net-worth individuals (HNWIs). And the range of in-store products should also be carefully considered and controlled, maybe creating and managing an artificial shortage in certain stores.
From a service standpoint, HNWIs regard themselves as different – part of a special elite group who are 'in the know'. They feel part of a privileged set and want to be treated as such. They expect that special touch – a unique level of engagement that should be automatically invoked whether they are shopping in Beijing, Hong Kong or Dubai.
And finally, there is the question of systems. These cover a wide cross-section of the business of selling brand, including ecommerce, digital marketing, and price monitoring and adjustment. But perhaps the most interesting and rewarding will be the systems – possibly yet to be invented – that not only follow the trail of the travelling Chinese consumer, but predict where he or she is going next and market directly to them, in advance.
The author is the managing director of Greater China of Oliver Wyman. The views do not necessarily reflect those of China Daily.