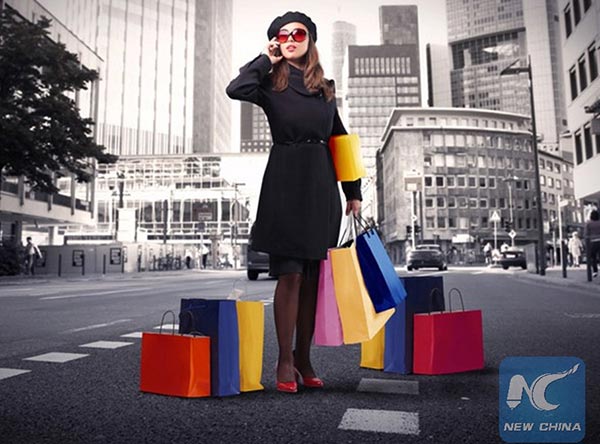 Chinese spend $184 billion overseas in 2015, with over 60 percent going to luxury goods.[Photo/Xinhua]
BEIJING - Luxury market observers say that China, the world's largest market, looks likely to continue to make up for the weaker demand elsewhere.
Today, Chinese shoppers account for nearly half of the global luxury market, providing an invaluable demand to brands in every segment. Data from Fortune Character Institute, a Shanghai-based luxury research consultancy, show China's luxury spending in 2015 totalled $16.8 billion, up 9 percent, year on year.
Observers find that educated, well-traveled and tech-savvy younger generation shoppers are emerging as the new target market.
"The Chinese customer is becoming a lot more global," said Andrew Keith, president of Lane Crawford, the high-end fashion retailer headquartered in Hong Kong. "There's a real thirst for newness."
They also find that Chinese consumers are shifting from visibly branded goods to a focus on quality.
"Our research found that 39 percent of wealthy Chinese think the logo is no longer the priority," said Tina Zhou of the Fortune Character Institute. "Now they buy luxury goods for their own enjoyment. Niche high-end brands as well as bespoke products, as a result, are becoming new drivers of luxury consumption."
Keith said women's wear is the fastest-growing portion of the company's mainland China business, accounting for 50 percent of sales.