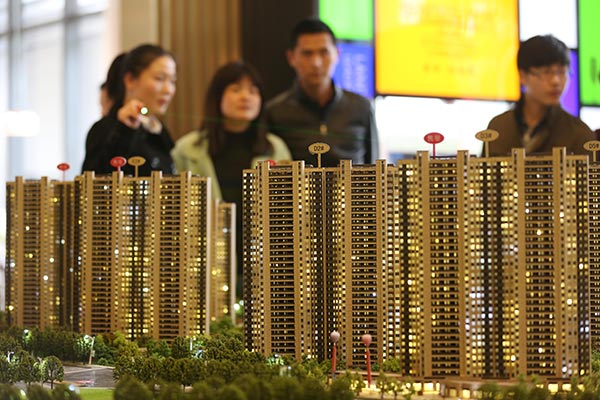 Potential homebuyers examine a property project model in Nanjing, East China's Jiangsu province, Feb 28, 2016. [Photo/VCG]
Second-tier cities such as Nanjing and Hangzhou are becoming the new darling for large real estate developers, as the markets there warm up and surging land costs in first-tier cities squeezes their profits.
Land purchase of 20 leading property developers, including China Vanke, Poly Real Estate Group, and China Resources, reached 118.7 billion yuan ($18.4 billion) in the first quarter, 53.6 percent of which went to second-tier cities, the China News Service reported on Tuesday.
The ratio expanded 18.9 percentage points from a year earlier, the newspaper cited statistics from Centaline Property Agency. Meanwhile, land purchase in first-tier cities - Beijing, Shanghai, Guangzhou and Shenzhen - dropped significantly.
Zhang Dawei, chief analyst of the property agency, said the shift is mainly attributable to the surging land cost as supply decreases, coupled with curbs following overheated home prices in first-tier cities.
Easier housing policies in second-tier cities that aim to cut overstocks and boost pent-up demand will be more favorable to home developers, said Zhang.
The country's policies are having an effect, as the home markets in Shanghai and Shenzhen cool down whereas in the second and third-tier cities they recover.
Home sales in 36 cities monitored by the China Index Academy saw a year-on-year increase in March, especially in second and third-tier cities, the Shanghai Securities News reported.
New home transactions by floor area in second-tier cities nearly doubled from a year earlier to hit 18.3 million square meters, according to a research institute of E-house China, a real estate information provider.
Meanwhile residential home sales in certain third-tier cities surged as much as 83.2 percent year on year, the newspaper said citing Huang Yu, executive vice-president of the academy.