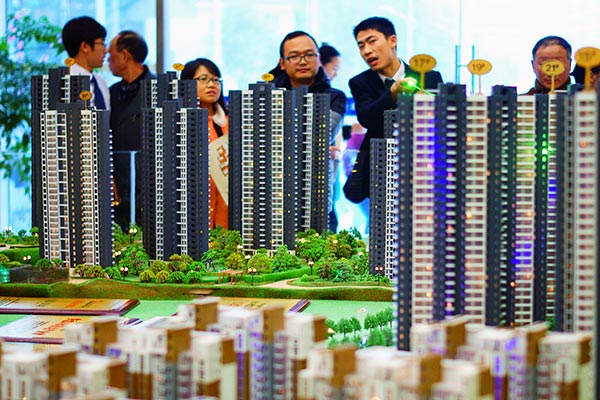 Potential customers look at a model of a real estate development in Yichang, Hubei province.[Photo/China Daily]
BEIJING - Land sales slowed sharply in China last year, as the property market cooled and the country faced economic headwinds, the Ministry of Finance (MOF) said on Tuesday.
Land sales by local governments amounted to 3.37 trillion yuan ($517.8 billion), plunging 21.6 percent year on year, according to a statement posted on the MOF website.
Sales fell year on year by 23.6 percent in East China, by 17.3 percent in Central China, and by 21.2 percent in the west.
Only a handful of cities and provinces saw sales growth, with Shenzhen rising the most -- by 36.9 percent year on year.
"Shenzhen's robust land sales were mainly due to its red-hot property market and the booming economy, which pushed land prices higher," the statement said.
The northern port city of Dalian saw land sales dive the most, with a fall of 56.4 percent. Ningbo city in East China's Zhejiang province, and Inner Mongolia autonomous region were both down by more than half, according to the statement.