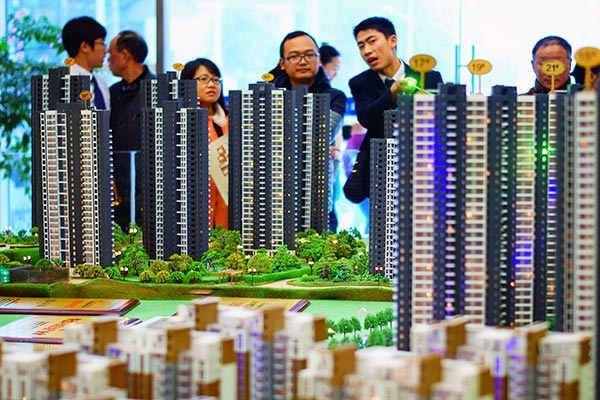 Potential customers look at a model of a real estate development in Yichang, Hubei province.[ZHOU JIANPING / FOR CHINA DAILY]
The average price of second-hand properties sold rose to 40,133 yuan per sq m by the end of March, a 1.1 percent growth month on month which marked the highest price in history, reported 21st Century Business Herald Friday.
Beijing Municipal Bureau of Land and Resources posted three plots of land on its website on Thursday, two of which are residential, located in Changping district. It is clearly noted in the post that aside from the area for building affordable housing, houses built on the rest of the land with an area of less than 90 sq m must account for more than 70 percent.
The move is seen as the comeback of the '90/70' requirement after seven years' suspension of that policy.
In 2006, the State Council released a document requiring that commercial housing which were approved after June 1 that year with an area of less than 90 sq m must account for 70 percent of the total homes being built.
As home prices keep hiking in major Chinese cities, Beijing Municipal Commission of Housing and Urban-Rural Development is tightening the property regulations. On top of that, the bureau is also strengthening the examination of home buyers' qualifications, intensifying efforts to rectify the intermediary market and stabilizing the property market in a bid to curb overheating in housing prices.
On March 25, Shanghai toughened conditions to buy property and raised the down payment requirements for secondhand homes.
Shenzhen rolled out tightening measures similar to Shanghai's on the same day as its new home prices advanced 3.6 percent in March, softening from 5.4 percent in February but still up 57 percent from a year earlier.