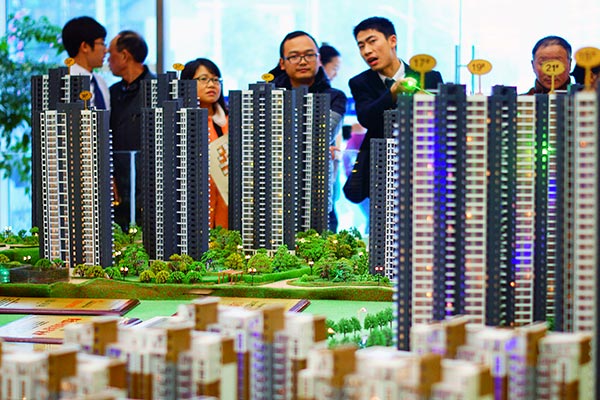 Potential customers look at a model of a real estate development in Yichang, Hubei province.[ZHOU JIANPING / FOR CHINA DAILY]
Home prices continued to leap in Shanghai and Shenzhen despite fresh efforts to rein them in.
New home prices in Shanghai jumped 5.1 percent from February to March, a sharp acceleration from 0.22 percent growth in February, according to data provided by China Index Academy on Thursday.
On March 25, Shanghai toughened conditions to buy property and raised down payment requirements for secondhand homes.
In Shenzhen, new home prices advanced 3.6 percent in March, softening from 5.4 percent in February but still up 57 percent from a year earlier. The city rolled out tightening measures similar to Shanghai's on the same day.
New home prices in Beijing picked up 0.84 percent, but prices for pre-owned homes jumped 5.1 percent. Pre-owned homes in Shanghai in March rose 4.7 percent, up from 1.8 percent in February. In Shenzhen, prices gained 4.7 percent, up from 2.8 in February. Sales of pre-owned homes exceeded sales of new flats in these cities.
Price hikes have spread from these cities to some second-tier cities, according to the academy. New home prices in Dongguan, a city near Shenzhen, registered the fastest growth among 100 cities.
A purchasing frenzy in Shenzhen also drove up prices in nearby Huizhou and Zhongshan, while the mania in Shanghai pulled up prices in Suzhou and Kunshan.
Governments in Suzhou and Nanjing have taken aggressive measures such as capping developers' price increases. In first-tier cities, governments have clamped down on Internet finance companies and home brokerage firms that were lending homebuyers money for down payments, a practice believed to push up prices and boost financial risk.
"As tightening measures in hot spots take effect, previous price hikes will be curbed and the national market will return to calm," the academy wrote in its report.
Most industry insiders are skeptical that the tightening measures could really put a brake on sizzling prices. Meng Xiaosu, chairman of China Real Estate Development (Group), said history suggested that every round of government restriction was followed by a greater rebound in prices.
Yvonne Zhou, a property expert at Boston Consulting Group, said the concentration of resources in big cities is the chief reason for hikes there. Excess liquidity also helped, which migrated to the property sector from the stock market.