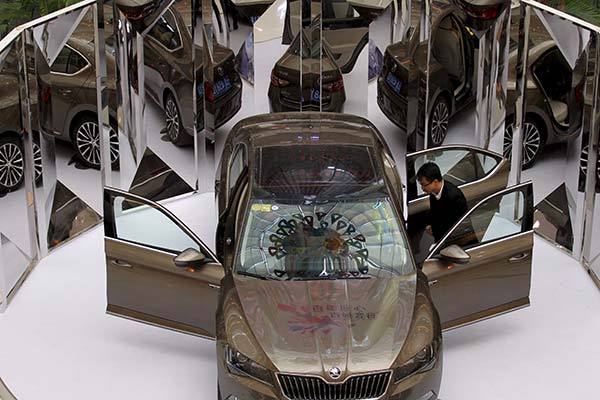 A salesman helps a customer with a Volkswagen Skoda at a shopping mall in Kunming, Yunnan province.[Photo/Agencies]
SAIC Volkswagen will spend around 2 billion euros ($2.27 billion) over the next five years to enrich Skoda's portfolios in China, the biggest single investment the Czech brand has received since its entry into the Chinese market in 2007.
The investment is detailed in a joint memorandum signed by Volkswagen AG, SAIC Motor Corp Ltd and Skoda Auto AS in the presence of President Xi Jinping and his Czech counterpart Milos Zeman on Wednesday in Prague.
Founded in 1895, Skoda became a wholly owned subsidiary of Volkswagen Group in 1991.
The three parties also agreed that Skoda would assume an equity position in SAIC Volkswagen, but this is subject to approval by the Chinese authorities.
"The equity interest in the company is the basis for the independent branding of Skoda cars and consequently the brand's profiled staging in China," said Skoda CEO Bernhard Maier.
China has grown into Skoda's largest market worldwide. Its China sales reached 281,700 vehicles in 2015, accounting for more than a quarter of its global sales in the year.
"We owe this success to our attractive model range and the very constructive and friendly cooperation with our long-standing Chinese partner SAIC Volkswagen," said Maier.
He said the investment will enable Skoda to rapidly expand its offerings to include forward-looking vehicle concepts and modern technology. "Our aim is to double our deliveries in China by 2020," said Maier.
Zhang Zhiyong, an auto analyst in Beijing, said the investment is important to Skoda as new models will certainly boost its sales and brand recognition in the Chinese market.
The investment will also cover pioneering electric concept cars, connectivity and digitalized individual mobility.
Jochem Heizmann, president and CEO of Volkswagen Group China, said the investment was a "strong signal" regarding the future research and development of new vehicle concepts and environmentally friendly technologies in China.
Skoda is preparing a comprehensive SUV campaign for the Chinese market as SUVs have been the fastest-growing segment in the Chinese market.
It will show the concept car Vision S in China for the first time at the Beijing auto show in April, offering a glimpse of the large SUV, which is expected to be launched in China in the first half of next year.
Another body variant of Skoda's large SUV is already in development. The brand also intends to bring out a crossover utility vehicle for Chinese consumers.
Skoda launched its first China-made model, the Octavia, in 2007. It now has six different model series on the Chinese market-from the small Fabia through to the mid-sized Superb.