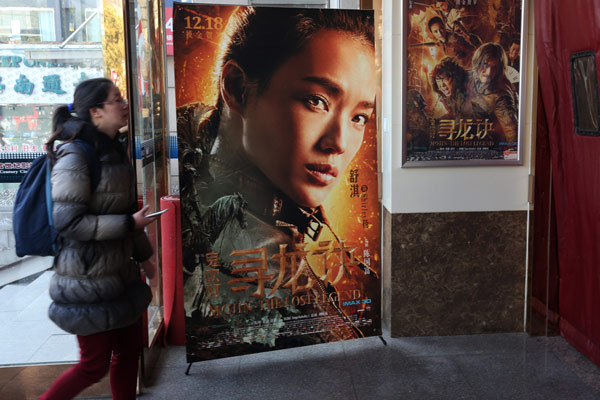 A moviegoer walks past a poster for Mojin: The Lost Legend, an Indiana Jones-style thriller adapted from the online novel Guichuideng, at a cinema in Nantong, Jiangsu province.[Photo/China Daily]
If China's film market is a flame burning bright, the country's online literature is increasingly its fuel.
The world's second-largest film market, with a box office haul of $6.8 billion in 2015, is churning out top-grossing movies inspired by popular novels published online.
As the self-publishing phenomenon has shaken up the literary scene in the West, writers in China have increasingly eschewed conventional publishing models and found readers on the internet. Online-only publishers have sprung up, and their releases are proving hugely popular.
Online novels have amassed hundreds of millions of readers, and now they are being tapped for their potential to reach an even broader audience once adapted into films. Mojin: The Lost Legend, an Indiana Jones-style thriller adapted from the online novel Guichuideng, was the third-highest-grossing Chinese film last year.
More movies based on online literary hits are expected to give Hollywood a run for its money in this summer's blockbuster season, and online novels have also been adapted into TV dramas and video games with great commercial success. It seems only a matter of time before China gets its first major media franchise based on an online novel.
"Movies definitely have the best shot at maximizing literature's commercial potential, but games are not far behind. Comics are quickly catching up as the fan base is broadening in China," said Zhang Xiaoting, CEO of Beijing-based investment firm Ming Capital.
"What you see the market doing is really trying to monetize in every possible way, rather than just accepting the money people pay to read the story online," said Henry Zhou, editor-in-chief of Alibaba's online literature division.
Zhou and his peers are desperate to replicate the success of Harry Potter, which of course began life as a series of novels before spawning films, games, audio books and numerous other licensed products, with a brand worth more than $15 billion.
More than 140 million Chinese were regularly reading online literature on their computers and smartphones as of December, according to consultancy iResearch Consulting Group.
Popular genres include mystery and fantasy, court dramas-especially those involving political struggles, office romance, time travel and tomb-raiding adventures.
Whereas online literature websites survived in the past on the money users pay to read long stories, they are now trying to become a licenser for works with potential to be adapted into movies and games.
iResearch predicts that more than 2 billion yuan could be made at the box office from an adaptation of one of the biggest online literature hits in the fantasy and mystery genres.