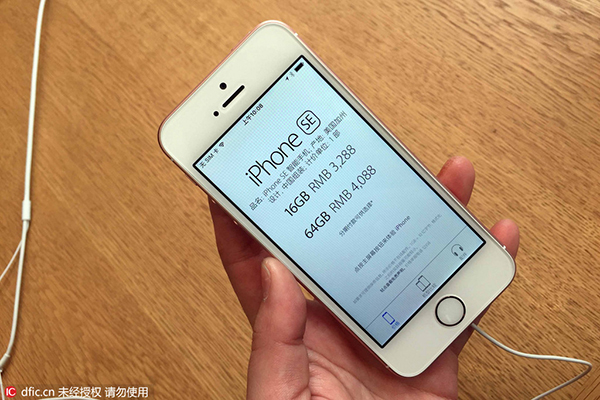 A customer holds an iPhone SE at Apple store in Shanghai, April 1, 2016. [Photo/IC]
The new iPhone SE failed to impress with its sales the first weekend after its release, according to statistics from Localytics, Sina.com reported Tuesday.
The sales in the past weekend of the iPhone SE accounted for only 0.1 percent of the total sales of all iPhone models, way less compared to the performance of some of the company's previous models. There were also no long lines that are usually seen in front of Apple retail stores every time there's a new product available.
Equipped with most of the features from its previous model iPhone 6s, Apple Inc tried to offer its users a 'budget friendly' model with iPhone SE at a retail price of $399. It was also released at a time when the company's overall sales volume has been slowing down.
However, the sales don't say all about the model's future potential. Many iPhone 5 owners are waiting for Apple's yearly update and will change to the iPhone SE afterwards. The next few months' sales will show if users set their hearts on a smaller iPhone or the next big screen iPhone which will be released this September.
There are no specific selling statistics unveiled by Apple Inc at the moment.