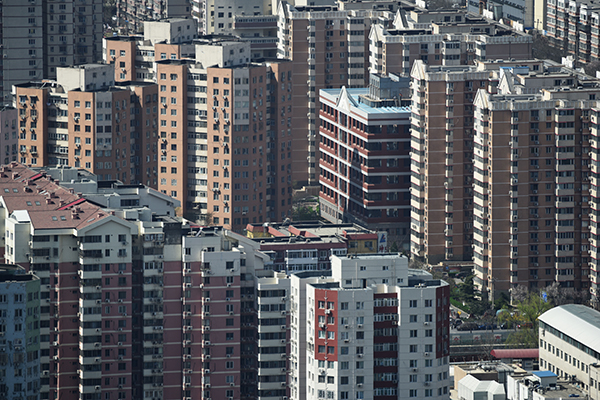 Photo taken on Mar 29, 2016 shows residential building in Beijing. [Photo/VCG]
The property market in Beijing picked up in March amid relaxed measures, reported Beijing Times on Tuesday.
A total of 9,189 units of new homes were sold, surging 2.06 times from February, according to statistics by real estate service provider Yahao.
The transaction price averaged 31,967 yuan per square meter ($4,918), down 2 percent month-on-month, but up 16 percent year-on-year.
The rally in transaction was due to a lower base, as February was the month for the Spring Festival holidays and the property market was at a bottom in March, 2014, Guoyi, marketing director of Yahao, told the newspaper.
The mild decline in housing price came mainly as a result of increased transaction of medium and low- price apartments, he added.
Real demand and need for improved housing remained the main driving force, Guo said.
The rally also came as China cut the required reserve ratio and benchmark interest rates for commercial banks for six times since the end of 2014 to boost liquidity.
Second-hand house sales in the capital kept up the momentum that started in the second half of last year thanks to the "de-stocking" policy nationwide and eased credit envrionment, according to the newspaper.
Statistics from Lianjia, another real estate agency, show that second-house sales topped 30,000 units to 32,009 in March in Beijing, up 193.3 percent year-on-year. The transaction price averaged at 39,286 yuan per square meter($6,044), up 14.5 percent from the previous month and 4.3 percent year-on-year.
However, as the marginal effects of the beneficial policies recede, the property market in Beijing may cool down and stabilize in the future, said analysts.
Currently, some first-tier cities such as Shanghai and Shenzhen have launched stricter rules on vetting mortgage application, signaling a trend of tightening in the future.
Looking forward, Guo told the newspaper that transaction will likely remain active, while the price may slow down its increase.