Latest model launched, and another promised by end of year as firm aims to boost sales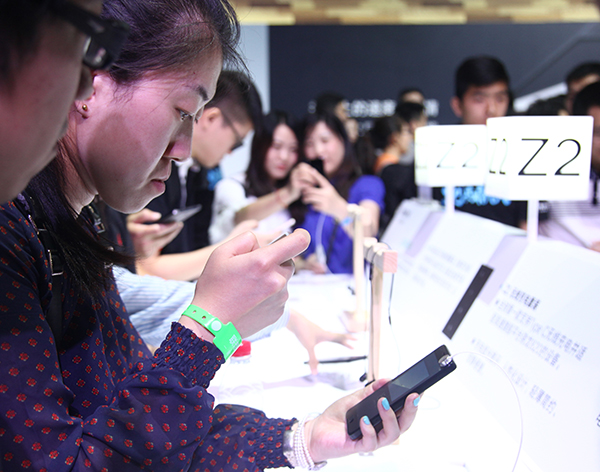 Customers experience Lenovo Group's latest smartphone ZUK Z2, which it unveiled on Tuesday. The newly released smartphone has a 5-inch screen and is equipped with a Snapdragon 820 processor by Qualcomm Inc. [Photo provided to China Daily]
Lenovo Group Ltd unveiled its latest smartphone on Tuesday, the ZUK Z2, which it hopes will rejuvenate sluggish sales and return it to the top tier of phone makers within two years.
Priced at 1,799 yuan ($273) and equipped with Qualcomm Inc's Snapdragon 820 processor, the newest device features a smaller 5-inch screen than the previous ZUK Z2 Pro model, which was only launched in April.
Chen Xudong, senior vice-president in charge of Lenovo's mobile business group, said: "We will release another generation of ZUK, and an epoch-making Moto smartphone that target high-end users, in the second half of this year."
He added that huge attention in the future will be paid to building brand image and expanding the company's retail channels and marketing effort.
The remarks come shortly after the Beijing-based firm reported its first loss in six years, which it blamed on the cost of restructuring and declining sales of both smartphones and PCs.
According to its annual fiscal report, released on Thursday, the technology giant reported a net loss of $128 million for the full-year ended March 31, compared with a net profit of $829 million in the same period last year.
It sold 66 million smartphones globally in the period, a 13 percent slide year-on-year, which shaved 1.1 percent from its share of the global smartphone market, to 4.6 percent.
James Yan, research director at Counterpoint Technology Market Research, said Lenovo's efforts at rebuilding its image are now squarely focused on the ZUK smartphone brand, but that it would find it "difficult to get back into the top three, or five, of the domestic smartphone market within a short time".
He predicted that could take two years, and only then, if its competitors make a mistake.
The latest figures from consulting company International Data Corporation show Lenovo shipped 74 million smartphones in 2015, which gave it a 5.2 percent market share globally, ranked it in fourth place.