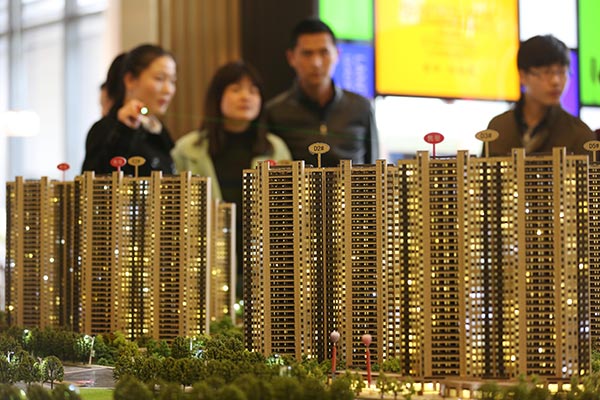 Potential homebuyers examine a property project model in Nanjing, East China's Jiangsu province, Feb 28, 2016.[Photo/VCG]
Chinese listed property companies' investment in real estate in 2015 registered the slowest growth in 17 years, according to China Securities Daily citing a report released by China Real Estate Association on Wednesday.
The report, covering 198 companies listed on the Shanghai, Shenzhen, Hong Kong and foreign bourses, showed China Vanke Co Ltd remained the top property developer for nine years running, with sales of 261.47 billion yuan ($39.86 billion) and a market share of 3 percent last year.
China Overseas Land and Investment Ltd and Greenland Holdings Co Ltd took the second and third place in the ranking, the source said.
The listed real estate companies recorded large increase in asset size in 2015, it showed. The average total assets rose 30.88 percent year on year to 58.62 billion yuan, the average net asset value climbed 23.44 percent to 15.77 billion yuan, and the average real estate business revenue increased 22.95 percent to 11.77 billion yuan.
Growths in average total assets and real estate business revenue were up 7.46 and 18.96 percentage points respectively compared with 2014. The growth rate in net asset value remained steady.
Companies showed increased divergence in profit growths, with the numbers of enterprises posting large increases and sharp declines both on the rise, the source said.
The liability ratio of the companies kept at a high level, it indicated. The average net liability came to 96.09 percent, up 7.23 percentage points from 2014 and hitting a new record.
High level of inventory was not substantially reversed, it said. Inventory averaged 30 billion yuan, up 25 percent from the previous year. Inventory turnover edged up by 0.01 to 0.37 at the end of 2015 thanks to warming up of sales.
According to data from the National Bureau of Statistics tracking all real estate developers, investment in real estate grew 1 percent year on year to around 9.60 trillion yuan in 2015, compared with 10.5 percent in 2014.
For the first four months this year, investment in real estate grew 7.2 percent year on year to 2.54 trillion yuan.