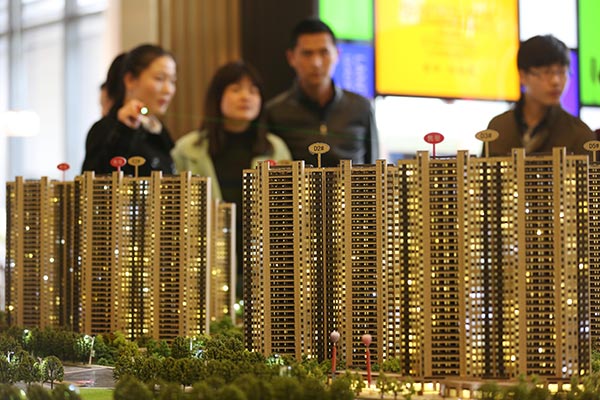 Potential homebuyers examine a property project model in Nanjing, East China's Jiangsu province, Feb 28, 2016.[Photo/VCG]
BEIJING - Investment in China's property sector rose 6.2 percent year on year in the first quarter of 2016, data from the National Bureau of Statistics (NBS) showed on Friday.
The expansion continued to pick up following the 3-percent increase for the January-February period and the 1-percent growth for the whole of 2015.
However, the first-quarter rate remained below the 8.5-percent growth seen in the same period of 2015.
The property sector has been a significant supporting force for China's economic growth.
Prolonged weakness in this sector and growth deceleration in property investment are believed to be a major risk to the Chinese economy and a key reason behind overall sluggish demand.
According to the NBS, investment in residential housing grew 4.6 percent in the first quarter.
New housing construction soared 19.2 percent in terms of floor area, compared with the 14-percent decrease for the whole of 2015.
Construction of new homes gained 14.8 percent, compared with the 14.6-percent decline last year.
In floor terms, property sales jumped 33.1 percent in the first three months, much higher than the 6.5-percent gain in 2015, the data showed.
Sales revenue surged 54.1 percent, compared with the 14.4-percent gain seen in 2015.
NBS figures also showed the land area purchased by property developers dropped 11.7 percent, much better than the 31.7-percent decline recorded in 2015.
China's property sector has shown signs of improvement in the last three months, with home prices rising in big cities including Beijing, Shenzhen and Shanghai.
But markets in smaller cities remain subdued due to a supply glut, and the government is trying to reduce stocks.
There were about 735.2 million square meters of finished but unsold properties across China at the end of March, down some 4.2 million square meters from the end of February, according to the NBS.
But on an annual basis, the inventory was still 13.1 percent higher than the same period of 2015.