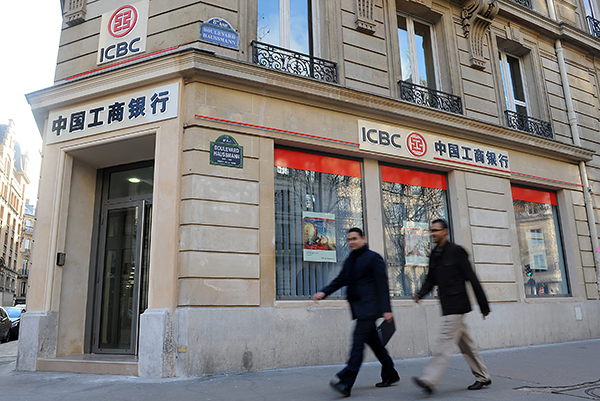 Two people pass by the branch of Industrial & Commercial Bank of China (ICBC) in Paris, France. [Paul Boursier/For China Daily]
As Western banks withdraw, Chinese counterparts, with abundant capital, are providing new loans
Chinese lenders are fast becoming global leaders in ship financing, while Western banks are reducing or exiting their shipping loan portfolios. That disengagement is due to increasingly strict capital requirement regulations being enforced as the world's shipping industry faces its worst downturn in three decades.
In 2014, the last year for which statistics are available, three out of 15 of the world's largest shipping lenders were Chinese banks, together providing $45.3 billion of financing. That is just under 20 percent of the $258 billion total shipping finance debt of the top 15 lenders' combined, according the US-based intelligence firm Marine Money.
In 2007, before the financial crisis and consequent shipping market downturn, none of the Chinese banks made the global top 15 shipping lenders.
The three banks are Bank of China, the Export-Import Bank of China, and China Development Bank, ranking sixth, eighth and 15th, providing loan volumes of $18.5 billion, $15.8 billion and $11 billion respectively.
Industry insiders cite Chinese lenders' abundant capital and long-term perspective as key reasons behind their emergence, adding that they have entered the shipping finance market at an opportune time because ship asset valuations are already at a historical low, hence risks for a further fall in value are minimized.
"Chinese banks' increasing level of activity is very helpful for the entire shipping industry's dynamics in a difficult time," said Nigel Thomas, a partner at the law firm Watson Farley & Williams, who specializes in shipping finance.
"Despite the current low valuation on shipping assets, over the long term at least some sectors of shipping are expected to generate solid returns. Currently, many shipping assets, which are fundamentally sound from a longer-term perspective, are competing for sources of financing, so it is a good opportunity for Chinese banks to select more solid shipping assets to finance."
The global shipping industry has suffered from severely slashed commodity demand in recent years. The Baltic Dry Bulk Index, the most common measure of shipping activity levels, touched 290 points in February, marking the lowest level since records began in 1985. In May 2008, the index reached a peak of 11,793 points.
As of March 1, 2016, the global order book for new vessels totaled 4,461 ships of 283.2 million deadweight tons, down 11 percent year-on-year.
Meanwhile, banks globally face increasingly strict capital requirements. Under Basel III, the latest rules for improving regulation, supervision and risk management, for example, banks are required to set aside more capital for shipping finance compared with other types of financing such as property loans or business loans, meaning many Western banks now view shipping finance to be unprofitable.