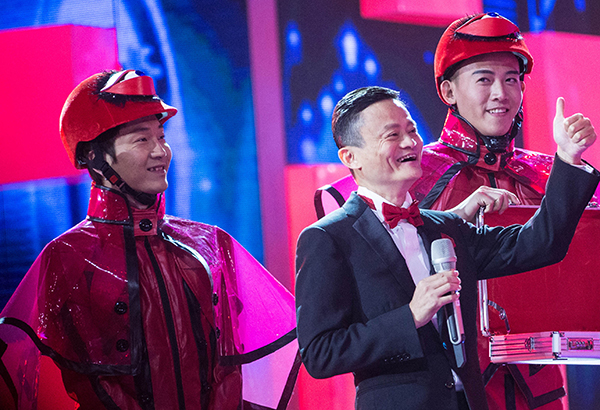 Jack Ma, chairman of Alibaba Group Holding Ltd, speaks at the e-commerce conglomerate's Singles Day promotion party in Beijing. [Photo/VCG]

First financial forecast since group went public, in wake of SEC probe in the United States
Alibaba Group Holding Ltd said that its revenue growth will accelerate this fiscal year as China's largest e-commerce company provided its first financial forecast since going public in 2014.
The company predicted sales will rise at least 48 percent in the year ending March 2017 as it pushes into new markets and businesses beyond e-commerce.
Part of that growth comes from Alibaba's rapid deal-making: it spent about $18.7 billion on acquisitions and stock buybacks over the past year, including on e-commerce site Lazada Group SA.
Sales should rise more than 36 percent this year if revenue from Lazada and streaming video service Youku Tudou Inc are excluded, Chief Financial Officer Maggie Wu said at an investor conference on Tuesday. That compares with a 33-percent growth the previous year.
Analysts were expecting 40 percent revenue growth on average for fiscal 2017.
The guidance reflects how Alibaba is moving into untapped rural markets, exploring business abroad and investing in new sources of income from online media to cloud computing.
The company, which is trying to counter the impact of a slowing economy, bought Youku Tudou to expand into online video and Lazada to gain a foothold in Southeast Asia.
"A growth rate like this would be pretty fast given the base of their business," said Li Yujie, an analyst at RHB Research Institute Sdn in Hong Kong.
Alibaba's shares rose 3.1 percent to $77.77 at the close in New York on Tuesday.
Alibaba's decision to release financial guidance comes after the US Securities Exchange Commission began looking into its accounting practices.
The company is cooperating with the probe, which encompasses data reported from the company's Singles Day promotion on Nov 11, Alibaba's biggest shopping day, as well as how it consolidates results from affiliates such as logistics partner Zhejiang Cainiao Supply Chain Management Co. Alibaba had excluded Cainiao from its results to comply with GAAP accounting rules, Wu said.
Chairman Jack Ma said in November that times would be tough in the following 15 months and that many companies would fail as China tried to rebalance its economy.