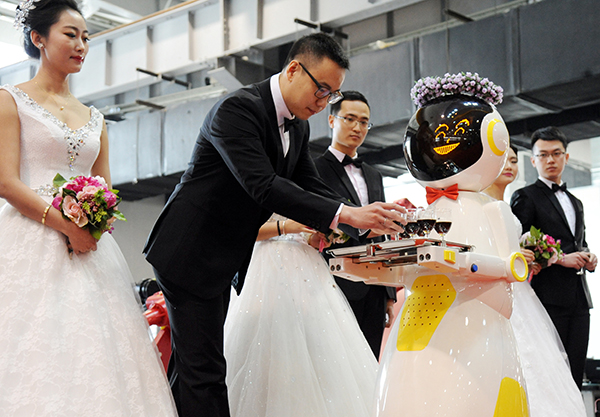 A robot serves as a waiter at a group wedding ceremony held by Siasun Robot& Automation Co in Shenyang, Liaoning province. [Photo/CFP]
Industry leader Siasun sees cooperation as potential powerhouse
When discussing linking Germany's Industry 4.0 and the Made in China 2025 industrial strategies, one of the first things that springs to mind is the robot sector, seen as perhaps the most promising area for cooperation between the two sides.
As the leading robot maker in China, Siasun Robot & Automation Co, based in Shenyang, Liaoning province, said it has achieved many new breakthroughs in recent years. The company told China Daily on Monday that its new industrial robot, which only began mass production in February this year, is now being used in the field by customers.
"Our product is a world pioneer. Kuka Roboter (the German manufacturer of industrial robots and solutions for factory automation) released its conceptual product last year, but there was no mass production and application. It only took us half a year to realize mass production," said Ha Enjing, public relations director of Siasun.
Siasun said its robot is a new type of product which combines the functions of a mechanical arm and automatic guided vehicle together.
"The robot has a huge market demand. It is one of our key battlegrounds in competition with global robot giants," said Qu Daokui, president of Siasun Robot & Automation.
But however good its product, the idea of cooperation appeals. "We attach great importance to long-term cooperation with Germany," Qu said.
Siasun said it has already established strategic cooperative relations with many German companies, which has achieved win-win results.
In 2015, the company's self-developed robot stamping production line was used in BMW's Brilliance Automotive's plant in Shenyang.
In strategic cooperation with Siemens AG, Siasun will help promote intelligent manufacturing and apply the industrial 4.0 technology in Chinese companies.
Moreover, in February, Siasun bought Teutloff Vocational Training Education Group, a leading German mechanical engineering vocational school, for an undisclosed sum.