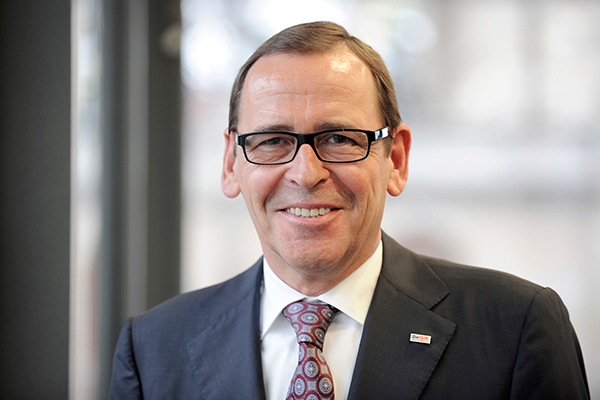 Peter Tyroller, the member of Bosch's management board responsible for the Asia-Pacific region. [Photo provided to China Daily]
Sales of Robert Bosch GmbH in China reached a record high of 77 billion yuan ($11.8 billion) in 2015, as the German technology and service supplier underwent its biggest expansion amid China's industrial upgrading boom, senior executives said on Thursday.
The company said this year it will focus on four areas-connected mobility, connected industry, smart home and smart city-to enhance its earning ability from China's Internet Plus initiative.
Peter Tyroller, the member of Bosch's management board responsible for the Asia-Pacific region, said the sales record was achieved despite a less dynamic market environment. China's share in Bosch's global sales climbed to 16 percent last year-making it the group's largest market outside Germany.
"We continue to see many opportunities in the local market and also in the 'new normal' of the Chinese economy-especially for our business with connected products and solutions", said Tyroller.
New normal refers to China now moving up the value chain amid a developing economic model of slower but quality growth. This development has reshaped many international companies' business policies and investment strategies in the country.
Bosch said its Mobility Solutions unit continued positive growth in line with the development of the Chinese automotive market in 2015. Meanwhile, the Consumer Goods business recorded healthy growth, according to the company's 2015 financial report on its Chinese operations.
With the acquisition of the 50 percent stake of BSH Hausgerate GmbH, previously owned by Siemens AG, Bosch said it had further extended its position in the Chinese home appliance market.
It said that the industrial technology, as well as energy and building technology business sectors, were impacted last year by the slowdown of domestic infrastructure investment. But fresh opportunities remained.
"Focusing on areas such as industrial upgrades, environmental protection, electrified mobility, and on driving forward connectivity with the 'Internet Plus' initiative, China's 13th Five-Year Plan (2016-20) presents many new opportunities for Bosch," said Chen Yudong, president of Bosch in China.
The company has invested 18 billion yuan in China over the past five years, with investments totaling 5.2 billion yuan in 2015 alone. Chen said the group plans to invest on a similar level this year as it aims to drive internet connectivity forward and promote industry upgrades in China.
Bosch employs 55,000 people in China, its biggest single workforce outside its home market.
It now has a number of Industry 4.0 pilot projects-the high tech strategy initiative which promotes the computerization of manufacturing.
They are in its plants in Suzhou, Shanghai, Wuxi, Changsha, Nanjing, Beijing and Changzhou and Xi'an.
"We can connect mobility with energy, building, and industrial technology to offer cross-domain services-something few other companies can," said Chen. "China's fast growing 4G network will build a solid foundation for its manufacturers. This in turn will benefit greener, more efficient and sustainable development."
Bosch plans to recruit some 14,000 university graduates worldwide this year-2,500 of them in China, among which over 500 will be software related.
Zhao Ying, a researcher at the Beijing-based Institute of Industrial Economics of the Chinese Academy of Social Sciences, said the trend toward internet connected industrial operations will consume less energy, since companies are organized to optimize machine usage, labor, and product and service delivery.