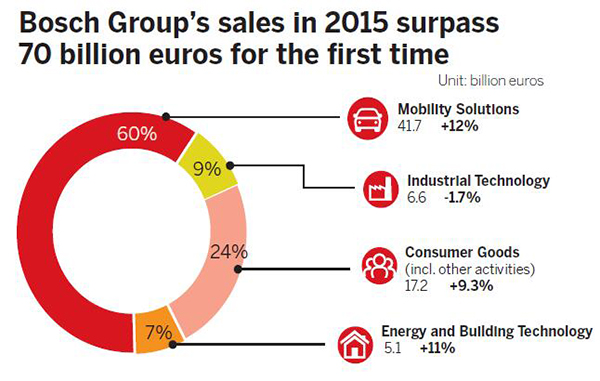 Last year, the Bosch Group for the first time recorded sales of over 70 billion euros ($77.83 billion), according to preliminary figures.
The company's revenue grew by approximately 10 percent. Earnings before interest and taxes rose to around 5 billion euros. Its EBIT margin from operations reached 6 percent, higher than the previous year.
The company said the Internet of Things sector is transforming Bosch's business, in some cases at fundamental levels. Bosch offers key connectivity technologies such as sensors and software and is developing other new services in the sector.
The development of sales last year varied across four business sectors: Its mobility solutions business grew by 12 percent to 41.7 billion euros in sales; sales of consumer goods grew by 9.3 percent year-on-year to 17.2 billion euros; the energy and building technology division recorded growth of 11 percent; while the company's industrial technology business continued to experience weakness from the slump in global mechanical engineering contracts. Sales in the last division fell by 1.7 percent year-on-year, to 6.6 billion euros.
Bosch's business strategy is to offer solutions for connected mobility, production, energy systems and buildings.
The company launched a number of new solutions across these four areas in 2015. It said developing greater connectivity technologies is key to meeting future challenges, such as a scarcity of resources and urbanization.
The development of the Bosch smart-home system is focused on a user's experience. Based a single platform, the company's system enables the networking across myriad devices such as heating, household appliances, entertainment systems and lighting, as well as security systems.
Bosch has been tapping into new, promising markets such as smart homes and high-tech industry as well as seizing opportunities in traditional markets, including the electrification of mobility.
The company now possesses pioneering knowledge in the area of solidstate cells. It also sees great potential in the two-wheeler and commercial-vehicle segments. For both segments, the Bosch recently established dedicated units in order to better serve market and customer needs.