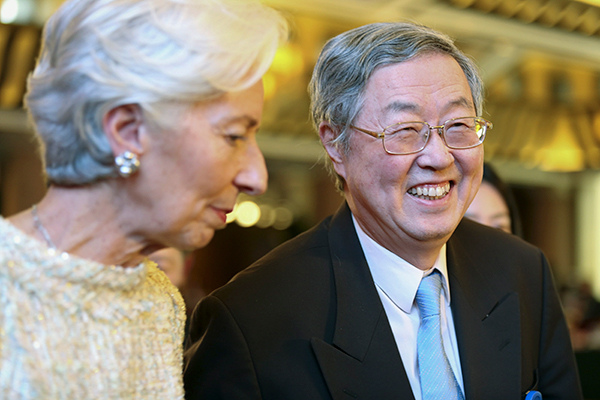 Zhou Xiaochuan, governor of the People's Bank of China, laughs as he leaves with International Monetary Fund Managing Director Christine Lagarde after a session of the China Development Forum in Beijing on March 30, 2016. [Photo/Agencies]
Money exiting foreign exchange reserves slowed in February, indicating stability of economy, currency
China's central bank Governor Zhou Xiaochuan on Sunday shrugged off concerns about the rapid decline of the country's foreign exchange reserves, saying it is natural to see some capital outflows after years of explosive accumulation.
The recent volatility of the yuan had caused the capital outflows, raising concerns about the decline of China's foreign exchange reserves, which dropped to about $3.2 trillion in February from the record level of nearly $4 trillion in 2014.
Zhou, the governor of the People's Bank of China-or the central bank-said about one-third of China's foreign reserves is short-term capital and it is natural to see profit-seeking speculators leave when they think the timing is appropriate.
"The pace of the outflows has not been surprising, compared to the speed of the inflows in the previous years," Zhou said at the China Development Forum in Beijing.
The country saw a decline of at least $500 billion in its foreign exchange reserves last year. But official data in February showed that the decline had slowed, indicating improved sentiment about the stability of the Chinese economy and the currency.
The central bank governor said China will continue to apply a managed floating exchange rate regime and will adjust the value of the yuan against a basket of currencies based on market supply and demand.
Zhou also said China's foreign exchange policy encourages mid- to long-term investment, rather than short-term speculation.
It has been reported that the Chinese authorities have been mulling the idea of levying a tax on foreign-exchange transactions, know as the Tobin tax, to rein in currency speculation.
Zhou said that China will continue to adopt "macro prudential measures" to prevent excess overseas borrowing by companies and the potential risk of currency mismatch.
The chief banker also warned about China's high corporate debt, saying the country should develop its capital markets and channel more savings into the market to reduce the corporate debt leverage through equity financing.
On Sunday, International Monetary Fund Managing Director Christine Lagarde said at the forum that China has a key role to play in the process of establishing a stronger and safer international monetary system, which is of paramount importance in reducing financial risks.
Lagarde said China is in the process of "multilayer transformation", which is going to be good for China as well as the world. But she warned that the road will be bumpy.