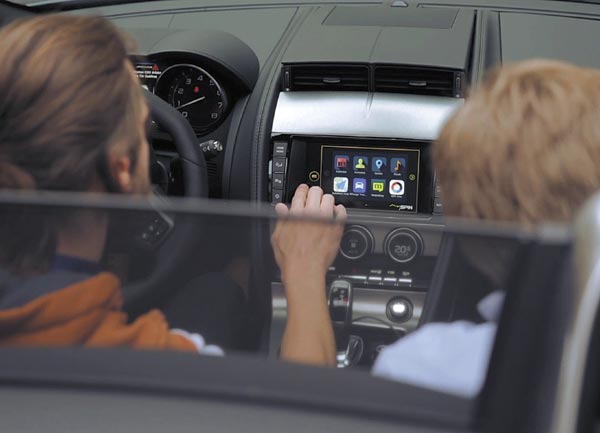 Bosch MySPIN smartphone integration. [Photo/China Daily]
German technology giant Bosch is gearing up for connected driving as Internet connection becomes almost indispensable in the auto industry.
Bosch said that "making the car connected" is one of its major business focuses that it has been working on for many years.
The telematics market is growing rapidly across the world, the company said. Citing statistics from the Global System for Mobile Communications Assembly, it said the Chinese market alone for telematics is expected to reach 500 billion yuan ($80.65 billion) by 2016-10 times higher than in 2012.
To seize the potential opportunities, Bosch is bringing together its expertise in the Internet of things and services to become a comprehensive systems provider, ranging from hardware and software up to services.
A crucial component for connected vehicles is the Bosch Connectivity Control Unit, which is an innovative terminal device that can collect the vehicle's operating data and track it in real time.
It enables various new functions and services of connected mobility, such as connected infotainment and navigation, remote diagnostics, fleet management and emergency calls, making driving safer, cleaner, more efficient, more comfortable and more fun, according to the company.
Besides innovations in hardware, Bosch also provides software solutions for connectivity, like its MySPIN smartphone integration.
The solution is "highly appealing" as it creates a perfect device-vehicle link and ensures safe and reliable in-car use, Bosch said.
It allows users to continue using their preferred apps on their IOS or Android smartphones in the way they are accustomed to without compromising safety, the company added. It said the first vehicles equipped with the globally applicable Smartphone integration solution are already on the road, adding that they are from a European premium car manufacturer.
Another example is the smart charging solution for electric vehicles-a software solution developed by Bosch Software Innovation, the Bosch software and systems unit.
The company said the software makes it "significantly easier" for electric vehicles to get charged at charging spots and pay for the electricity.
The Bosch IoT Suite provides all Bosch divisions, as well as external customers, with onestop solutions from the Internet of Things.
Bosch has already come up with the concept of a "connected workshop" as digital communications and data networking play an increasingly important role in car repair shops. The company said workshops of the future would be able to continuously monitor the status of customers' vehicles and recommend repairs in advance.
In addition, parts could be ordered and employees' work time better organized. Once a customer arrives for a service appointment, Bosch's flex inspect component automatically reads the fault memory and checks the car parts.