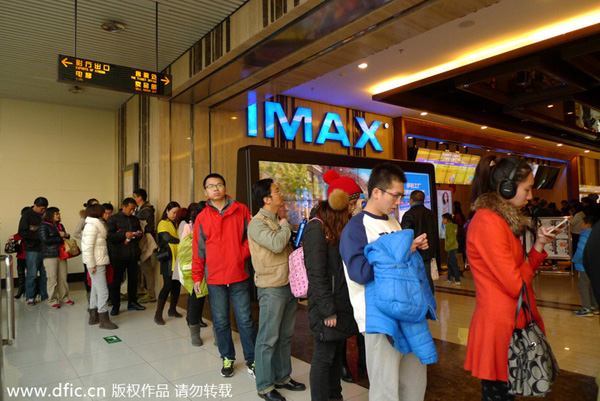 Moviegoers queue up to buy tickets at a cinema in Beijing, February 9, 2014. [Photo/IC]
Firm has long-term target of 1,000 theaters in China
IMAX Corp, the US entertainment technology company, is to accelerate its expansion in China after signing a revenue-sharing agreement with Guangzhou JinYi Media Corp, one of the country's largest cinema chains.
The deal will see IMAX technology installed in 40 theaters owned by JinYi, including new projects and existing cinemas in all sizes of city.
Installations will start before the end of the year and continue through to 2020, with most cinemas expected to add the screen format by 2018, said Richard L. Gelfond, CEO of IMAX.
The agreement is expected to increase JinYi's total IMAX footprint to 60 theaters, with the Chinese company becoming the third-largest IMAX partner in both China and internationally.
The US entertainment firm has an ambitious longterm target in the country of 1,000 theaters, said Gelfond.
"We are just beginning to tap China's full potential, which is on track to overtake the US as the largest film market in the world by 2017," he said.
IMAX technology is already present in more than 300 cinemas in China and it has an additional 270 planned openings in the short-term.
Last year, its Chinese subsidiary generated $110.6 million in revenues, its best-ever performance in the country. Officials attributed the strong showing to continuing demand for the format and growing consumer spending, coupled with a rapid network expansion and strong box office.
"Fulfilling the demand and preference of Chinese audiences is key to further development of the whole movie industry in China," said Neil Wang, global partner and China president of international consultancy Frost & Sullivan.
"Due to higher demands by movie audiences, we expect further penetration of IMAX theaters in China, especially in developing cities and regions."
Industry experts expect the Chinese movie industry to become more profitable for exhibitors and distributors.
"Leisure time and money are expected to experience continuous growth, which will drive the development of the movie industry in China, "Wang said.
Latest figures from Mintel China show last year total domestic leisure spending increased by 12.5 percent, while spending in cinemas increased by more than 50 percent, to 44 billion yuan ($6.75 billion).