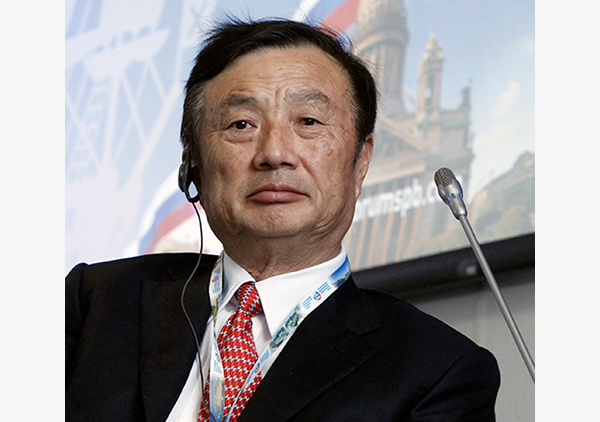 Huawei CEO Ren Zhengfei attended a forum in St. Petersburg, Russia in 2012.
Telecom equipment giant has focused on core business for 28 years, says its chief
Ren Zhengfei, one of the best-known and richest tech tycoons in the world, is a modest man.
The 71-year-old founder and chief executive officer of Huawei Technologies Co Ltd was recently spotted standing in a long taxi queue at Shanghai Hongqiao International Airport, with no chauffeurs, subordinates, and bodyguards about, who would presumably befit a man of his status.
By now, his Shenzhen-based company has grown into the world's leading telecom equipment maker that boasts a yearly revenue of 395 billion yuan ($60 billion) and a business presence in Europe, Africa, Asia and other regions.
Looking back across Huawei's development path that started 28 years ago in a shack with an initial investment of 21,000 yuan, Ren says focusing on one thing is his secret to success. "Our goal is to blaze a trail into No Man's Land in the telecom industry."
Recently, he talked to Xinhua News Agency about his business strategy, his views on innovation and Huawei's journey to a "No Man's Land". The following are edited excerpts of the interview.
Huawei has achieved robust growth despite the global economic slowdown. Why?
Firstly, Huawei has benefited a lot from the nation's political changes and Shenzhen's favorable policies. Without the reform and opening-up policy, Huawei would not have thrived.
Without the local government's efforts to clarify the ownership of private enterprises in 1987, we would not have created Huawei.
As Huawei grew up, we felt the tax burden was too heavy and lots of my colleagues proposed giving up. Then the Shenzhen government said it would not levy taxes on investments until companies managed to make profits. The policy greatly facilitated Huawei's efforts to scale up.
Secondly, we have been focusing on the telecom sector for 28 years. Back when we had just dozens of employees, we were targeting the telecom sector.
When we evolved into a company with hundreds of or even thousands of people, we were still focusing on the same thing. And this remains the same case when we currently have more than 100,000 employees. We are targeting it with "intensive bombardment".
Every year, we invest more than 100 billion yuan ($15 billion) into the telecom sector, with about 60 billion yuan on research and development, and 50 to 60 billion yuan going to marketing services.
Eventually, Huawei became a world leader in the area of big data transmission. And we propose establishing an open win-win framework, under which thousands of enterprises can work together to build the information society.
Thirdly, Huawei keeps on transforming itself by learning western corporate structures and management philosophies.
After spending 28 years on learning from the West, we have yet to go through the whole process.
But compared with some other companies, we are doing better in management.
However, we still have 20,000 more management personnel than Ericsson and $4 billion more annual management fees. Thus, we will keep optimizing the corporate structure and improving efficiency.
Every year Huawei spends more than $100 million inviting IBM's consultant team to help manage the company, why such a big investment?
You know what? A retired director of Toyota Motor Corp has worked at our company for 10 years, in charge of a senior management team.
A group of German engineers also spent more than a decade in Huawei to standardize and improve our production procedures.
Starting from producing products worth about 10,000 yuan, we moved up the value chain to make products worth tens of billions of dollars to hundreds of billions of dollars. With their help, Huawei is making steady progress, so every year we are spending more than $100 million on consulting fees.
When we started venturing into overseas markets, we knew nothing and had no idea of what project delivery was. We asked engineering consultants all around the world to help us. The first step was to study conscientiously so as to graduate toward a standardized management structure. Now we are making one step further, aiming to make things simpler and better by ourselves.
Does Huawei have any weak points?
Yes, we do. We almost collapsed 3 years ago. Because employees were rich and averse to take hardships. We were unable to send employees overseas. Everybody wanted to purchase a house in Beijing, and to be with their family.
Everyone wanted to stay in a good place. We asked ourselves: "Why not enhance front line employees' welfare?" We made sure that standards for our "generals" in Africa were more favorable than for employees in Beijing and Shanghai. In Africa, young employees could soon become "generals". When they were qualified, they could take salaries commensurate with a "general". Now our African employees do not even want to come back.
Huawei's growth coincides with a boom in China's real estate market. Have you ever considered branching into that sector?
Never. We did not buy any stocks or engage in any real estate business.
Have you ever been tempted?
No. Once there was a stock trading place downstairs. Huge crowds of people bought stocks there. But upstairs, our employees were as calm as water, working on our products. We focused on doing one thing, leading the team in a charge up into the telecom sector.
Why does Huawei not consider a listing on the stock market?
We do not care for earnings and profits that much. We fight for our ideas and goals. Sticking to our dream is very difficult, and there are a lot of sacrifices.
If Huawei is listed, shareholders may pressure us to branch into more sectors so they can put into their pockets several more billion yuan.
Then we would be unable to blaze a new trail into 'No Man's Land'.
You are optimistic about Huawei's future. But you also worry that Huawei may be the next one to collapse. Why?
Two reasons. Firstly, our employees can become slack. Currently we are expanding very fast but will we become lazy after such a rapid growth? We need to pay close attention to our weakness.
Secondly, China needs to beef up efforts to protect intellectual property. Physical properties are already protected by laws. Intellectual properties deserve at least equal protection. Only when a country protects intellectual property, can we have innovation.
What do you think about innovation in China?
The most important point in the high-tech sector is to settle down to our work. It is impossible to build an industry if there is no innovation in theoretical research. When it comes to R&D, talent is more important than equipment.