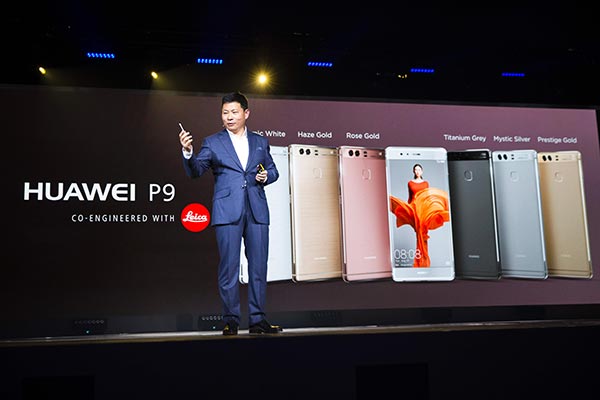 CEO of Consumer Business Group of Chinese tech company Huawei, Richard Yu, addresses the audience to launch the Huawei P9 smartphone during a press conference at Battersea Evolution in London on April 6, 2016. [Photo/VCG]
Huawei Technologies Co Ltd is preparing to challenge Apple Inc in a premium-end smartphone market as the Chinese telecom equipment maker unveiled a new flagship handset in the United Kingdom and a top executive spoke of plans to enter the United States.
The Shenzhen, Guangdong-based company debuted its latest device, the P9, a pamphlet with a dual-lens camera, in London on Wednesday. Huawei, the third-largest handset maker in the world, is betting on the new device to further expand its presence outside of China.
Huawei has been introducing its flagship devices in Europe since 2014, a strong indication the Chinese company is shifting its focus from China to developed markets.
After steadily growing market share in countries including the UK and Spain, the company may finally step into the US, a highly profitable yet extremely competitive market for global vendors.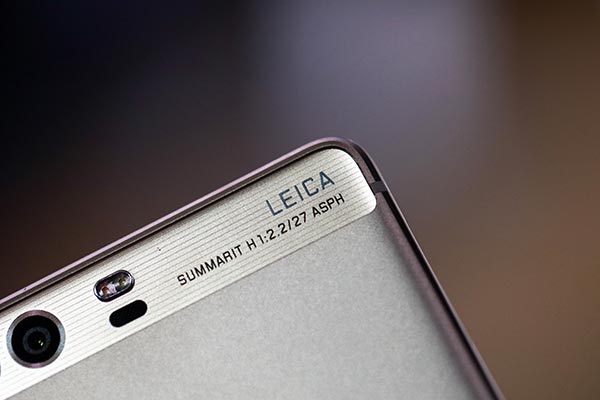 A Leica Camera AG logo sits on a P9 smartphone, manufactured by Huawei Technologies Co, at its launch event in London, April 6, 2016. [Photo/VCG]
Richard Yu, head of Huawei's consumer electronics unit, told The Wall Street Journal the company plans to launch a flagship device in the US later this year.
"We want to become the No 1 as a premium brand," Yu was quoted as saying by the newspaper on Wednesday.
Huawei, which started off as a budget phone manufacturer more than a decade ago, is now focusing on developing devices priced above 3,000 yuan ($460), a widely accepted threshold for high-end market. The most expensive Huawei device-the Mate S-is selling at 4,899 yuan, close to the price of an iPhone 6S.
Calling Huawei's smartphone ambition "aggressive", Nicole Peng, research director at Shanghai-based consultancy Canalys, said the top priority for Huawei this year will be increasing its presence in overseas markets while fighting Xiaomi Corp on its home ground.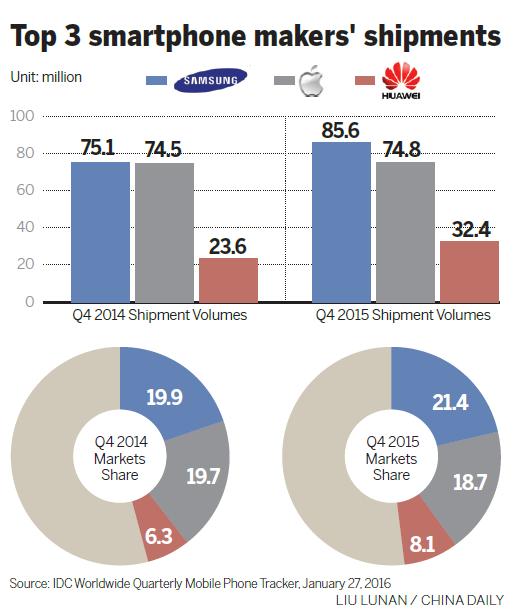 Huawei was one of the fastest-growing smartphone vendors by the end of 2015 with a whopping 37 percent year-on-year jump, according to the research firm International Data Corp. Shipments of Samsung Electronics Co Ltd saw a drop in the same period while the iPhone shipments went flat.
Huawei's consumer electronics unit, which sells smartphones, wearables and accessories, generated a revenue of 129 billion yuan in 2015, a surge of 73 percent year-on-year, the company said earlier this month. It shipped about 108 million smartphones last year and 75 million in 2014, according to Huawei.
This spring presents an opportunity for Huawei to close gaps with Apple after the US giant's latest rollout failed to catch buyers' attention.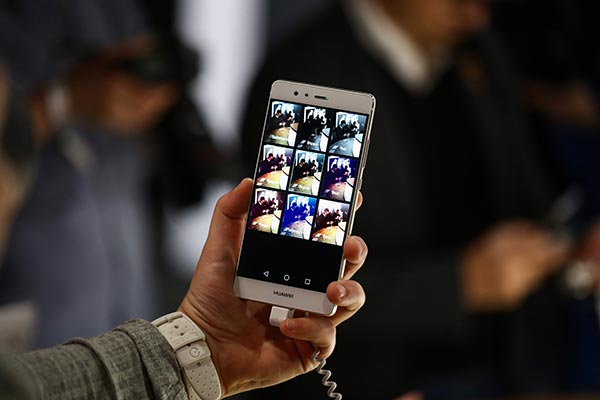 Attendees look at a P9 plus smartphone, manufactured by Huawei Technologies Co, at its launch event in London, April 6, 2016. [Photo/VCG]
The iPhone SE had the lowest adoption in its first weekend of availability since 2012, according to Localytics, a mobile app analytics company. The iPhone SE took 0.1 percent of the overall iPhone market by the first weekend since its availability, it said. In comparison, the iPhone 6S grabbed 1 percent in market share by the first weekend of release and iPhone 6 took 2 percent.
But Huawei may still find it difficult to face off Apple this year.
Anthony Scarsella, an IDC analyst, said to combat Apple at the high-end, Huawei will need to bring more value to consumers.
"Many vendors have placed a renewed focus on pushing premium-looking mid-tier devices as a new value proposition to consumers in both developed and emerging markets," said Scarsella.