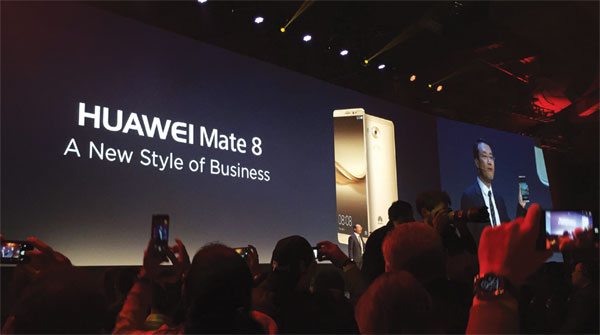 Kevin Ho, president of Huawei Technologies' Consumer Business Group Handset Business, introduces the company's new smartphone Mate 8 at CES 2016 in Las Vegas, Nevada, on Jan 5, 2016. [Photo by Linda Deng / China Daily]
Huawei Technologies will open a new office in Bellevue, Washington, this month and hire as many as 100 workers at the location.
Huawei Technologies North America's research and development office will be staffed by up to 100 workers by 2017, according to William Plummer, vice-president of external affairs.
The North American unit of the Chinese telecommunications giant currently has a small office in Kirkland, Washington. Its North American website and LinkedIn page both had open positions for the Bellevue location. Bellevue is about 12 miles east of Seattle.
The office building, the Plaza Center Bellevue, is located in the heart of Bellevue's business district. Huawei's lease is for 11,000 square feet on the fifth floor.
Grant Yerke, a senior vice-president at Broderick Group, a Bellevue real estate company, said it is not enough space for 100 employees, but the company may have an option to expand.
The Greater Seattle area is a hot spot for tech companies, not only because it is the home to Microsoft, T-Mobile and Expedia, but also for its healthy ecosystem, the talent pool for tech company development, and its lower costs compared with Silicon Valley in Northern California.
In 2010, Facebook opened its first engineering office outside of Silicon Valley in Seattle. Google is expanding its existing Kirkland campus, significantly boosting its presence in the Seattle region.
"I believe Huawei chose the area because it is the center of the development of cloud computing technology," said Zhaohui Tang, CEO of adSage, a Chinese digital advertising technology company that also has an office in Bellevue. "A big benefit is that the city is filled with skilled programmers and developers who have expertise in the cloud and all its capabilities," said Bill Liu. He is president of the Association of Technology and Innovation, an organization that promotes entrepreneurship, technical leadership and technical exchange between China and the US.
"The city is excited Huawei has chosen Bellevue as the site for their new R&D center," said James Henderson, economic development director for Bellevue, in an article on Geekwire.com.
Huawei grew its shipments by nearly 45 percent in 2015 and is one of the world's top smartphone makers. The company is engaged in some 100 research projects with more than 50 universities in the United States
More than 70,000 of Huawei's 150,000 global employees work in R&D. At CES 2016, Huawei said it expects to surpass Apple in the next two to three years, and then pass Samsung by 2021, ultimately becoming the world's largest smartphone manufacturer.
Huawei Technologies Co Ltd is based in Shenzhen, Guangdong province. Founded in 1988 by Ren Zhengfei, it is the largest telecommunications-equipment maker in the world.
lindadeng@chinadailyusa.com