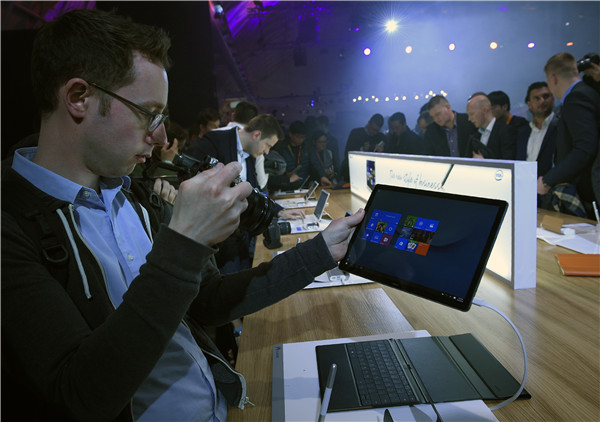 Visitors take pictures of a MateBook during a presentation of Chinese multinational networking and telecom equipment and services company Huawei Technologies Co Ltd on the eve of the official opening of the Mobile World Congress in Barcelona on Sunday.AFP
Huawei is fast growing its consumer products business across Western Europe through developing cutting-edge technology for its flagship products, putting its products into ecosystems in collaboration with technology partners, said Walter Ji, President of Consumer Business group, Huawei Western Europe.
Huawei, founded in 1987 in Shenzhen, initially as a firm championing the telecommunications carrier business, has expanded fast into consumer products such as smartphones in more recent years to increase its brand awareness.
Today, the consumer business group contributes about30 percent of Huawei's overall revenue but based on the current growth it will soon constitute 50 percent.
Ji said Huawei's strength is due to its technology, its technological craftsmanship with a passion for innovation, and its focus on the fashion and exterior design aspects of its products.
As a firm strong in research and development, Huawei has invested $9.2 billion in 2015 into R&D. Its focus on the look of the product design is reflected through details such as the high quality of cameras on its smartphones.
Impressively, its smartphone sales globally have become the third largest, just after Apple and Samsung. In 2015 smartphones sold in Western European markets reached 8 million overall, and its market share now stands at 8 percent in those markets, according to the company's estimates.
In addition to its smartphone, Huawei already sells a smart watch, and the company launched a 2-in-1 device that functions both as a tablet and laptop at the World Mobile Congress in Barcelona in February.
"Consumers have increased their affinity with Huawei and our brand awareness has risen to 65 percent on average in Western Europe," Jisays.
"We will continuously need to provide the best technology innovation for our flagship products in WEU and meanwhile we will enhance the collaboration with our partners as we further develop a true ecosystem, specifically with the operators," Jisays.
Huawei began developing a presence of consumer products since 2005, initially focusing on 3G devices such as dongles. Despite the success in sales, much of its dongles were sold as original equipment for other brands.
To grow its brand name in Europe, Huawei established its Consumer Business Group as a business unit in 2011 to start marketing its own branded products. Today, Huawei is now the second-largest Android brand in five Western Europe countries.
Ji said one factor behind Huawei's success is that Huawei tailors its approach to the needs of each specific country. "We have a very consumer-centric approach and engage with our consumer to grow Huawei further into a truly beloved brand in Western Europe."
He said the Western European market is one of the most important for Huawei and the region has been considered as the most challenging in terms of brand building. "That's why we are investing and why we are aiming to invest even more in order to build a trusted and beloved brand in Western Europe. This leadership and brand awareness that we build in Western Europe will also have a great impact on other regions and countries."
Huawei's expansion into the consumer products segment is also consistent with the firm's company-wide strategy of crafting increasingly connected technology for consumers, under the vision of the Internet of Things, which is a future state when objects are connected and share information with each other to make consumers' lives easier.
Hence Huawei is partnered up with car manufacturers such as Audi, bringing its interconnection services and solutions, such as smartphones and wearable devices, to the next generation of Audi cars.
To contact the reporter: cecily.liu@mail.chinadailyuk.com