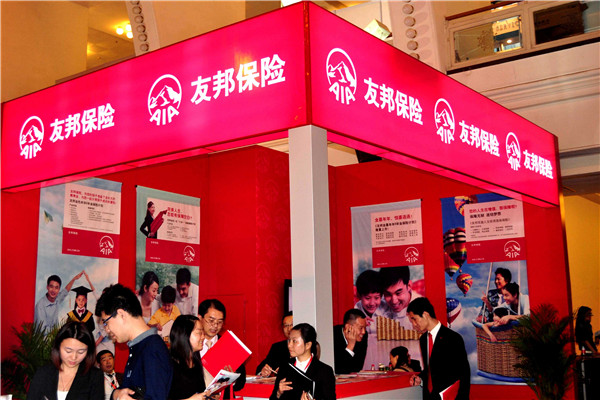 An AIA Group Ltd stand at a financial expo in Shanghai.YAN DAMING/CHINA DAILY
Profit slumps 22%, but insurer still surprises with 50% increase in its final dividend
AIA Group Ltd, the third-largest Asia-based insurer by market value, has posted a 22 percent decline in full-year profit as weaker regional currencies and stock-market gyrations detracted from business growth.
The insurance company announced an unexpected 50 percent increase in its final dividend even as net income fell to $2.69 billion in the year to Nov 30, from $3.45 billion a year earlier.
Fourteen analysts estimated a profit of $3.35 billion, according to data compiled by Bloomberg.
AIA has come under pressure after currencies in five of its six-largest markets depreciated by as much as 21 percent during the year, according to data compiled by Bloomberg, and the MSCI Asia-Pacific ex-Japan Index dropped 14 percent.
"Sentiment may be dented but the fundamental growth in the region is not derailed," said Mark Tucker, AIA's chief executive officer, referring to recent financial markets volatility and long-term regional opportunities driven by increasing urbanization, growing incomes and demand for insurance policies.
The final dividend increase "demonstrates our tremendous confidence in AIA's future growth prospects" and consistently strong results over the past five years, he said.
The Hong Kong-based insurer's HK$0.51 (6 cents) dividend boosts the full-year payout to HK$0.69, it said in a statement to the city's stock exchange.
The full-year number is 39 percent higher than a year earlier, and future dividends will grow this higher base, Tucker said.
New business value, a measure of future profitability of new policies that has been the management focus, jumped 19 percent to $2.2 billion, compared with a 17.4 percent median estimate of seven analysts surveyed by Bloomberg.
Operating profit after tax, which excludes $370 million net stock investment losses, rose 10 percent to $3.2 billion. New business value would have expanded 26 percent without the currency effect.
AIA's new business value and operating profit were "modestly better than expected," Citigroup Inc analyst Darwin Lam wrote in a note, adding the final dividend increase was "a positive surprise".
AIA has a presence in 18 Asia-Pacific markets and sells policies mostly in local currencies and reports financial figures in dollars.
It tries to match the currencies of its investments with those of its insurance sales.
People from the Chinese mainland have been flocking to buy insurance policies in Hong Kong for better service.
Beijing recently tightened enforcement of a cap on the purchases of insurance products using UnionPay debt and credit cards at $5,000 per transaction.
The tighter enforcement of those rules will have "minimal impact" on AIA as the amount of policies affected is small, Tucker added.
Hong Kong and the mainland accounted for almost half of AIA's new business value in 2015, up from 44 percent a year earlier, its two-fastest growing markets.