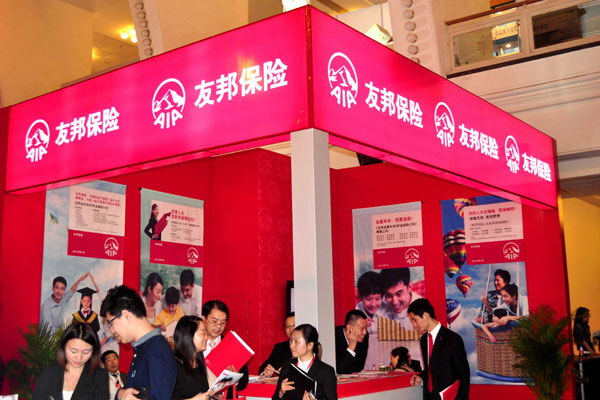 An AIA Group Ltd stall at an exhibition in Shanghai. Provided to China Daily 
AIA Group Ltd's value of new business grew 25 percent in the fiscal year to November 2013, while growth in China reached 34 percent, the company said on Friday.
The value of new business, which measures the expected profits arising from new policies, rose to $1.49 billion in the year that ended Nov 30. The metric is widely used in the industry because it represents the shareholder value created from new business.
The value of new business in China totaled $166 million.
The margin on the new business in China widened by 8.9 percentage points to 66.4 percent, compared with 44.1 percent for the group overall.
The group, which is Asia's third-largest insurer by market value, said total net operating profit rose 16 percent to a record $2.5 billion. Net profit in China jumped 36 percent to $205 million.
"The impressive growth in China is mainly driven by product mixture improvements, improved investment income, lower expenses and a positive tax effect," said Mark Tucker, chief executive officer and president of AIA Group.
Although China's economy may slow this year, Tucker said it will have no impact on AIA's business
"China is moving in the right direction. And the shift from a quantitative growth to quality-based growth, in fact, will benefit us in the long run," said Tucker.
China's GDP growth is expected to slow to 7.62 percent in 2014, down a 0.08 percentage point from 2013, according to a forecast by Xiamen University.
Tucker was very optimistic about AIA's business in Asia, given such critical drivers as demographics, urbanization, emerging middle classes and high levels of savings.
"The opportunities are unlimited. We are yet to see the best year to come," said Tucker.
Swiss Reinsurance Co Ltd has forecast that China's life insurance sector will expand 11 percent in 2014, up from 9 percent in 2013. Growth will be driven by rising demand for health insurance, among other factors, according to Xing Li, senior economist at Swiss Re.
In Hong Kong, AIA shares slid 0.134 percent to close at HK$37 ($4.77) on Friday.
According to UBS AG, the margin on AIA's value of new business is likely to widen in the second or third quarters of 2014, driven by improving margins from South Korea, Thailand and Malaysia.
The bank said recent weakness in the stock price is a long-term buying opportunity.
Don't miss: