New rules aim at boosting blue chip equities amid dampened sentiment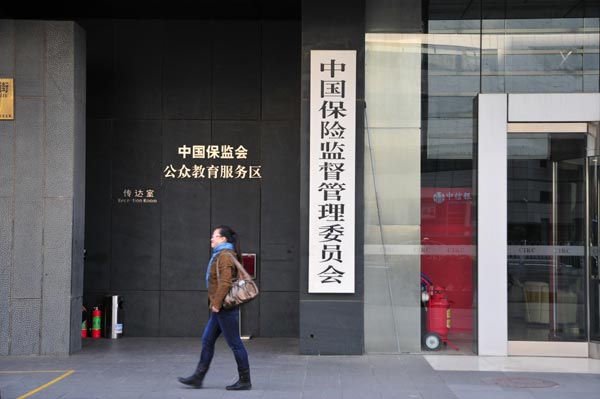 The headquarters of the China Insurance Regulatory Commission in Beijing. It said recently that insurers can put premiums generated from policies written before 1999 into isolated accounts and invest in blue chips. Provided to China Daily
China on Wednesday increased the size of premiums that insurers can invest in stocks following media reports this week that securities regulators want to stabilize the sluggish stock market by boosting blue chip equities.
The China Insurance Regulatory Commission said in a statement published on its website that insurers can put premiums generated from policies written before 1999 into isolated accounts and invest in blue chips to an amount they deem fit.
Previously, insurers could invest only 25 percent of their premiums generated before and after 1999 in the stock market.
Analysts say the commission drew the line at 1999 because interest rates were relatively high before that year and most policies written back then were suffering losses.
Historic data from the commission show the balance of insurance policies totaled 260.4 billion yuan ($43 billion) at the end of 1999, with 92.6 billion now sitting in deposit accounts.
Luo Yi, an analyst with China Merchants Securities Co Ltd, wrote in a Wednesday research note that Ping An Insurance Co of China Ltd stands to benefit the most from the new commission rule because it has the largest number of policies written before 1999 among insurers in China.
The rule on Wednesday comes just one day after another CIRC rule that allowed insurers to invest in firms listed on the Nasdaq-like ChiNext board of mostly technology and medical startups in Shenzhen. Before, insurers' equity investments were limited to the main board, out of safety concerns.
Benefiting from the announcement, the ChiNext Index received a major 3.9 percent boost on Wednesday, the biggest gain since Aug 1. That comes amid a 0.2 percent loss in the benchmark Shanghai Composite Index, which has ended lower in four out of the five past trading days. A total of 16 stocks on the ChiNext board grew by a daily limit of 10 percent, including Leshi Internet Information & Technology Corp, which has the biggest weighting in the ChiNext Index.
The Oriental Morning Post reported on Monday that the Chinese securities regulator urged blue chip companies to start the "management of their capitalization", to pull the falling market out of its doldrums.
The Shanghai index has lost more than 7 percent since Nov 30, when the China Securities Regulatory Commission rolled out new reform guidelines on share-listing mechanisms and promised to end a 15-month IPO hiatus this month.
Accounting firm PricewaterhouseCoopers has projected that up to 300 companies will list shares this year, in total raising 250 billion yuan.
As of the end of November, Chinese insurers had invested 7.47 trillion of their total 8.1 trillion assets, with 10.21 percent - 755.6 billion yuan - in the stock market. That's less than half of their 25 percent quota. If they use the remaining 15 percent quota under the new rules, it means more than 1 trillion yuan will pour into the stock market, which will more than offset funds taken away by new IPOs and could usher in a bull market.