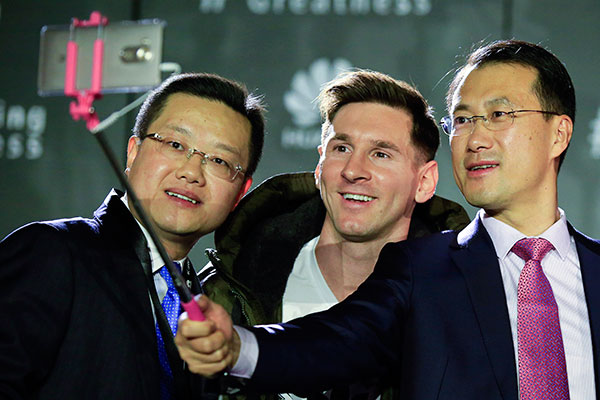 He Gang (right), the head of Huawei Technologies' smartphone unit, and Liu Tao, the Chinese company's CEO for Latin American consumer business, take selfies with Argentine soccer star Lionel Messi in Barcelona on Thursday. The company has signed the 28-year-old FC Barcelona striker as its global ambassador. PAU BARRENA/XINHUA
Argentine soccer superstar Lionel Messi will have to ditch his Samsung phone for a device from Chinese tech giant Huawei Technologies Co.
Huawei said on Friday it signed the 28-year-old FC Barcelona striker as a global ambassador to promote its consumer electronics and corporation. Messi had been endorsing Samsung Electronics Co's smartphones over the past years.
Shenzhen-based Huawei declined to disclose size of the two-year contract, but Spanish media are reporting it ranges from a whopping 5 million to 6 million euro ($5.6 to 6.7 million) a year.
He Gang, head of Huawei's smartphone unit, said Messi's involvement will quickly boost the brand awareness for the company, which is trying to seize a larger share of the smartphone markets outside of China.
"We are looking at a long-term partnership with Messi because Huawei and Messi desire victory," he said.
Messi, who just led Barcelona in its 3-1 victory over London's Arsenal FC on Thursday, said his goal has always been to win everything he competes for.
Huawei was the world's third-largest smartphone vendor by shipments as of last year. But it held only an 8.1 percent share of the global market by 2015, lagging far behind Apple's 18.7 percent and Samsung's 21.4 percent, according to research firm IDC.
Nicole Peng, research director of Canalys China, said Huawei is planning to explore overseas markets to expand its global presence this year because about seven of every 10 devices it sells go to the Chinese market, where demand has stopped growing.
Huawei is expected to make a hefty investment in overseas marketing this year, she said.
Chinese technology firms have paid large amounts to hire celebrities and sponsor popular events to aid their overseas expansion.
In 2013, Beijing-based Lenovo Group recruited Hollywood actor Ashton Kutcher to promote its tablet products.
In October, smartphone maker Vivo Communication Technology Co of Guangdong took on a two-season sponsorship of the Indian Premier League, the most-watched cricket tournament in India, to tap into the rapidly growing handset market.