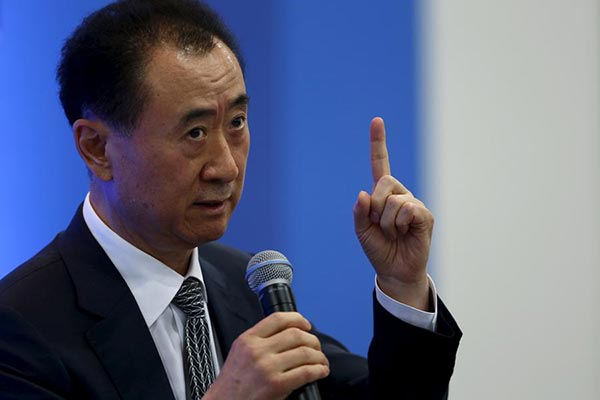 Wang Jianlin, Chairman of Dalian Wanda Group in China, speaks at a dialogue session during the Asian Financial Forum in Hong Kong, January 18, 2016. [Photo/Agencies]
ZURICH - Chinese company Wanda Group has signed a highest-level sponsorship contract with FIFA, according to a statement released by the world soccer governing body on Friday.
The contract will grant Wanda the highest level of sponsorship rights, which includes the next four FIFA World Cup editions, the statement said.
"We are pleased to welcome the Wanda Group to FIFA. A company that has a long affiliation with football, has been an active supporter of the game for many years and shares our enthusiasm to develop and strengthen football," said FIFA President Gianni Infantino.
As part of their agreement, Wanda will have rights to all FIFA competitions and corporate activities up to and including the 2030 FIFA World Cup, according to the statement.
"As FIFA President, I am committed to providing stronger support for football development to our member associations, and I believe that the relationship with Wanda will support us to continue the on-going development and growth of the game in China and all over the world," said Infantino.
Wanda Group chairman Wang Jianlin said he hoped their cooperation with FIFA will enhance the development of soccer in China,
"We are highly motivated to promote football across the country and to inspire a new generation of youngsters. The Chinese government is committed to this development and as a company we strongly support these efforts. In order to professionally grow the existing grassroots movement into a sustainable and well managed sport, we are delighted to tap into the vast experience of the most competent advisor - FIFA," he said.
"We believe in football as one of the most attractive sports globally and have the highest trust in FIFA and its newly established organizational structure under the lead of President Gianni Infantino," he added.