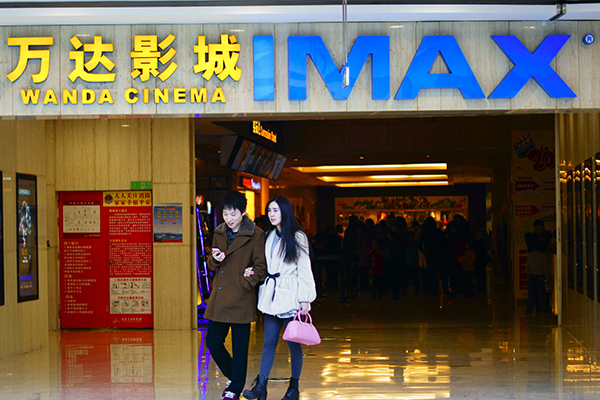 Moviegoers walk out of a Wanda cinema in Yichang, Hubei province. [Photo/China Daily]
Investment company says acquisitions will help the group lift its total value
Oceanwide Holdings Co Ltd, the real estate developer-turned financier and Internet player, plans to invest 2.5 billion yuan ($384 million) in two media and movie companies owned by Chinese property conglomerate Dalian Wanda Group Corp Ltd.
The firm's wholly owned Oceanwide Equity Investment Management Ltd is planning to acquire 6.61 percent stake of Wanda Pictures and 7.59 percent of Qingdao Wanda Pictures.
Wanda Pictures is expected to be publicly listed soon in a projected fundraising worth 10 billion yuan, which would suggest the company could have a valuation of 34.5 billion yuan, based on the Oceanwide offer details. Wanda has already listed its Dalian Wanda Commercial Properties Co Ltd, and Wanda Cinemas offshoots.
Founded in 1989, Oceanwide started trading on the Shenzhen Stock Exchange in 1994 and has assets worth 70.8 billion yuan. It engages in real estate, finance, energy, culture and media, and strategic investment businesses.
In February, Wanda Pictures was valued at 1.66 billion yuan with net assets of 1.08 billion yuan.
Wanda Group said in January it had plans to spend $3.5 billion on acquiring Hollywood studio Legendary Entertainment, the co-financier of blockbusters like Jurassic World and The Dark Knight, after which it would further integrate its domestic and international film businesses and resources.
Oceanwide said its stake acquisitions would help the group to become more involved in the culture and media industries, as well as lift its total value.
China's film industry is currently on a high, with Chinese sci-fi comedy Mermaids, for instance, pulling in single-month revenue of 3.3 billion yuan, to become the country's most successful ever title.
In 2015, Chinese cinema revenues hit 44 billion yuan, a 48.7 percent annual rise on 2014, generated by 1.26 billion moviegoers, a 51.08 percent yearly surge.
The Oceanwide announcement comes just days after AMC Entertainment, production firm of recent Oscar-winning film Spotlight, which Wanda Group bought in 2012, revealed it is acquiring rival Carmike Cinemas for $1.1 billion, to create the world's largest movie theater chain.
The combined company will be the dominant theater chain in North America with 2,954 screens there and 5,426 globally.