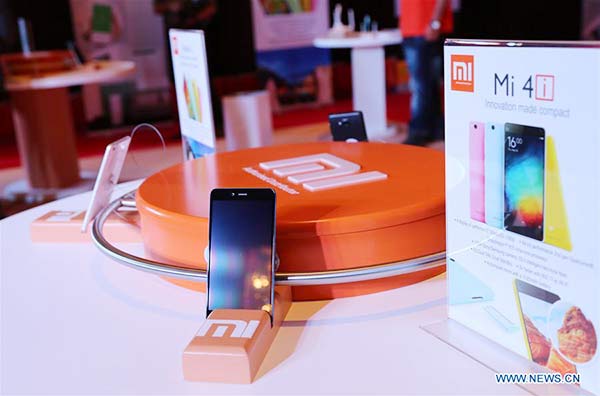 Photo taken on Jan 13, 2016 shows the Xiaomi smartphone on display at its launching ceremony in Dubai, the United Arab Emirates. [Photo/Xinhua]
Mobile Internet will deliver China 'golden opportunities' over the next decade
Lei Jun, the founder and CEO of Xiaomi Corp, says China's rural areas are busting with opportunities for innovation and entrepreneurship in the IT industry.
Speaking at a news conference in Beijing on Monday, he added that the company also has a great desire to develop the country's virtual reality technology sector.
"Internet businesses run from rural areas will be the next big thing after the mobile Internet and will bring China golden opportunities over the next 10 years," Lei said.
Highlighting what he called the country's growing number of "unicorn companies"-the tech startups valued at more than $1 billion each, he said the expanding 4G network has already connected many previously remote areas via smartphone, the use of which is becoming commonplace across the country, even in the remotest areas.
"This means the countryside can skip the popularization of PCs altogether, and move directly into the mobile Internet era," said Lei, whose company has developed much of China's best homegrown smartphone technology.
According to a report by the China Internet Network Information Center, there are 195 million Internet users in rural China, or 28.4 percent of the national total. That equates to one Internet user in every three villagers.
"China has a large rural population. As the Internet becomes an increasingly important part of these people's lives, it also provides opportunities for investment, entrepreneurship and employment," said Lei.
As a leading angel investor, Lei said he has personally invested in several rural start-ups which base their business on the Internet. And these startups are developing fast.
He gave one example of a firm, set up just a year and a half ago, which has a monthly revenue of more than 500 million yuan ($76.8 million).
The inspiration behind many innovations, he said, has been finding ways of narrowing what he called the urban-rural gap, the most common being the development of mobile applications specially designed for young people living in the countryside, who often have different needs for their smartphones than those in cities.